February 17
The Throne is Never Empty
"The LORD has established His throne in the Heavens, and His sovereignty rules over all."
"Even down to old age all my people shall prove my sovereign, eternal, unchangeable love; and when snowy hairs shall their temples adorn, like lambs they shall still in my bosom be borne.
The soul that on Jesus has leaned for repose, I will not, I will not desert to its foes; That soul, though all hell should endeavor to shake, I'll never, no never, no never forsake."
My Sovereign – author unknown
Beyond the reach of man is the fullness of understanding of all that God is. It is a hard pressed journey of soul refusing to lower its sail of pursuit to know and be known by God. He is all consuming for the longing heart fully abandoned of all other desires but for more of God. The older I grow in the Lord, the more increasingly aware I am of the great divide that exists between intellectual study of God and an experiential knowledge of Him. This is the gap that separates us from knowing and being, learning and living, striving and resting. God seeks the later of these for each of us. He, being the government of the universe, is without question moving with perfect faithfulness to tear down this boundary. He beckons us to approach the line, to cross over pressing into Him and in the leaning fall, unreservedly, head over heels in love with the God of all Creation.
Growth is not measured by knowledge; in fact we can be overfed while being undernourished…spiritually speaking. It's a state that's been referred to as, "spiritual indigestion" which takes place when we take in more than we understand. We gorge our souls on the latest Bible studies, teaching tapes, radio messages, sermons, books, internet and other social avenues of spiritual information until we are overloaded with nothing but fatness of soul to show for it. We end up with a lot of spiritual fatness with no fruitful exercise to burn it off.
God wants to give us more than mere knowledge of Him and His ways: He desires to have intimacy with us. He intentionally seeks a deeper relationship with each of us where we come to experience the truth of Who He is in our everyday lives. Truth is meant to be digested until it becomes part of our very being; fleshed out in every area of living. One such truth is the sovereignty of God the Almighty. Webster defines sovereignty as supreme power, freedom from external control or of other controlling influences. What does this mean…that God is the ultimate authority in every sphere and place. All creation is subject to Him and is accountable to Him. He is THE GOD MOST HIGH. This truth is very dear to my heart because it has brought healing, strength and renewed hope even in times of great despair and pain of soul. It is this name that will remove all fear and surrender every right of independent living. He is El Elyon which means, The Most High God. He is on the throne and there is none above Him. You can take rest in this truth today.
HIS RULE IS MY COMFORT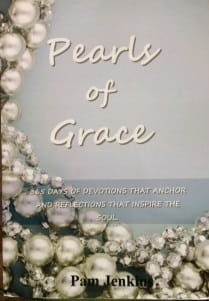 Pearls of Grace Devotional Book
Pearls of Grace is a book of devotions for the entire year, including a read through the Bible in a year calendar, broken down for every day. Beautifully written with encouraging words of hope and empowering words of joy and strength for every woman. Pam draws from the truth and richness of God's Word and gives real life examples in her down to earth style. A must have in your library, click here for more information.
For more from Pam Jenkins and Jabbok Ministries, please visit www.jabbokministries.com!
Listen to Pam Jenkins's daily broadcast on OnePlace.com.