February 2
His Servant… His Beauty
"Now Moses was faithful in all His house as a servant, for a testimony of those things which were to be spoken later;"
When asked the question, "Are you a servant of the Lord", Mother Teresa answered; "Oh much less than that, I am put a pencil in the hand of God." Her devotion to the Lord was poured out daily with such passion and selflessness that it cannot be grasped by the limited understanding of mankind. She was that rare jewel hidden among the ruins of the earth. The beauty of a servant will not and cannot be measured on this earth with human understanding. The eyes of God are scouring the earth looking for such a soul who is wholly devoted to Him and the causes of His heart. He looks for the table waiter, the foot washers, and the outcasts who have but one desire above all others and that is to serve Him all the more. Mother Teresa was a woman who owned absolutely nothing except the clothes on her back, yet she was in want of nothing. She had no money in the bank, no plans for the future, rather she stocked up her treasures above in a place where no thief would ever break in and steal and no rust or decay could ever make claim to. She may have been poor in life but she became rich at her death!
This is the heart of a servant dear one; a heart that looks to receive nothing but only to give. As long as you are receiving only you are not serving. There are many reasons why we don't serve. but the one that shouts the loudest is this: we don't serve because it involves giving. It will involve giving time, energy, gifts, and even our own comforts and plans. At times serving may involve giving monetarily and if we are only looking to receive we will miss the great opportunities God affords us to serve. We are never more like Jesus when we are serving others. A service offered for the King is not dependent on the souls served but on the One for whom we serve! He is worthy of every act of service we offer up to another upon His earth whether big or small. Serve and there in that lowly place, that place that is painful, even in the barren lands, you will find Him them kneeling beside you girded about with towel and basin in hand. Pour out the waters of Jesus upon the head and feet of others and you will find your water pot freshly filled at every outpouring of honor.
Whatever you give unto God of yourself He will freely take it up and once in His hands He will write an anthem of praise unto the Son! Don't be afraid to be the servant of another. This is the place where the very face of Jesus is seen; in serving. It's not in the lofty places that we find the King of Glory when He lived upon the earth, nor was He found in the grand works that so many wanted Him to perform; it was in the lowly, uncommon places; in the stables of the earth that He is discovered. This is what makes humility so beautiful in the face of a servant because Jesus is seen! God uses the common vessels to pour the greater beauty through. Glory waits for the heart that takes nothing for itself.
A giver never wants but a taker never has.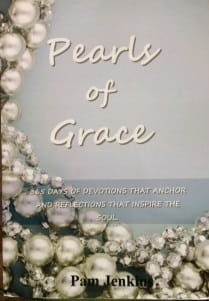 Pearls of Grace Devotional Book
Pearls of Grace is a book of devotions for the entire year, including a read through the Bible in a year calendar, broken down for every day. Beautifully written with encouraging words of hope and empowering words of joy and strength for every woman. Pam draws from the truth and richness of God's Word and gives real life examples in her down to earth style. A must have in your library, click here for more information.
For more from Pam Jenkins and Jabbok Ministries, please visit www.jabbokministries.com!
Listen to Pam Jenkins's daily broadcast on OnePlace.com.