February 27
The Dew Drenched Life
"I will be like the dew to Israel; He will blossom like the lily, and he will take root like the cedars of Lebanon."
The mystery of the dew drenched life is compared to the falling of the dew itself and all the benefits it brings with it. The dew is a priceless gift that comes from God Himself falling afresh every morning upon the dry and thirsty ground. The dew falls in the stillness of night when all is hushed and the earth is at rest. God's dew is given in the hours of rest, in the hours of darkness, not in the day when we are busy at work. It's not found among the noise and it falls upon the still places. It is one of God's secrets. What is true in nature will hold true in spiritual things as well. Just as the dew is wrought from the depths of the earth to be displayed upon the surface, so is His presence when poured out afresh upon our lives. The dew of His presence will be evident upon the surface of our lives.
So many of God's children are living dewless lives. They are anxious, impatient, busy, overworked, restless, discontent, angry, easily agitated, nosey bodies, full of fear and jealousy. When we lack times of stillness before the Lord we will lack times of refreshing and strength before others. It is in rising, while it is still night, that we will catch the dew upon us that God will give and come morning light we will be refreshed and strengthened having drunk in His presence. Without the dew creation would have no life by the end of day for the sun comes out and beats down upon it. Just as the dew is vital in nature, so the Heavenly dew of God's presence is vital for our life. We will not make it through the day without it.
We often miss the dew of Heaven because it comes in stillness of night and before we can receive it we must, ourselves, get still before Him. Pastor W. Mallis once said; "We cannot produce it, but we may receive it and live, moment by moment, in that atmosphere where the Holy Spirit may continually drench us with His presence". We cannot produce our own dew beloved, there is no shortcut or cookie cutter pattern for spiritual success. It will never be found, never be received apart from lying still before Him, when the world ceases to exist from our thoughts and it is just you and Him. It is on the quiet grounds that He does His most powerful work precious One. Never be satisfied to live the dewless life!
Pour out Thy heavenly dew upon the soil of my life.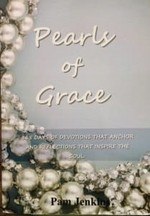 Pearls of Grace Devotional Book
Pearls of Grace is a book of devotions for the entire year, including a read through the Bible in a year calendar, broken down for every day. Beautifully written with encouraging words of hope and empowering words of joy and strength for every woman. Pam draws from the truth and richness of God's Word and gives real life examples in her down to earth style. A must have in your library, click here for more information.
For more from Pam Jenkins and Jabbok Ministries, please visit www.jabbokministries.com!
Listen to Pam Jenkins's daily broadcast on OnePlace.com.