January 25
The Fellowship of the Cross
"and as they came out, they found a man of Cyrene, Simon by name: him they compelled to bear his cross".
There is a communion born out of pain that brings a fellowship of joy far greater than the sorrows of our circumstances. When the rugged beams of Calvary's cross were laid upon the bleeding back of Jesus Christ, it was more than any one man could have carried in the condition He was in. His back had been scourged over and over again until there was no longer a human form easily detected. Jesus had lost massive amounts of blood and now to have the weight of these beams laid upon the open wounds proved to be too much for our Savior to bear alone. When our Lord could walk no further, He gave beneath the weight of the tree before the crowd that had gathered to watch His agony. From the blood stained soil a name is called…a carrier is needed…"you there, carry His cross." His name was Simon and from this moment forward his life would be eternally remembered. He was a stout Cyrenian and unlike the Lord's shoulders, his were sturdy, strong and without wound. In this captured moment of agony, Simon became what no other man or woman had ever been or would ever become…the substitute of Jesus.
When Simon came into Jerusalem in order to celebrate the Passover, he had no idea the tragedy that was taking place. He was innocent standing in the crowd of hate; and engulfing hate for the one who was truly innocent, Jesus. He found himself trapped in the midst of ungodly people intent on killing. In the scene he was forced to be a part of, he must have positioned himself in such a way that he could get a glimpse of the One who had been condemned. God gifted Simon this day with a vantage point that none would ever have. He came face to face with living grace, unending mercy and tenacious love. It was no accident that a soldier, one of the Lord's persecutors saw the Cyrenian in the crowd. Out of all the faces in the mob that day, his was the one marked for a holy act of service; the soul chosen to be drawn into the tragedy. Whatever it was that caught the soldier's eye, one thing is for certain, Simon was chosen. Before he knew what was happening he was dragged out from the shadows of the spectators and the cross was upon him and he was walking beside Jesus to Calvary. His presence in that hour had won him a place of honor that even earthly kings would never be privy to.
There upon the blood stained street they journeyed together, side by side. They were shoulder to shoulder, inseparable of the weight of agony, two men yet one cross to bear making their way up to the place called Golgotha. There would be no greater act of service one could ever offer to Jesus, than to carry His cross. The Lord spoke to Simon privately, as if only the two of them occupied the world. This tragedy brought the privilege of intimacy, a communion of two yet a burden of only one. What words the Lord spoke to this cross bearer we are never told. But one thing we can know without doubt: in the moment of such darkness, great tragedy, Simon met Jesus. They were united in the sadness, going on together under one single cross bearing one common shame. What treasures we gather along the road of suffering when we make that pilgrimage with Jesus. And although it was Jesus who carried the sins of the world, it was Simon who carried His cross. What an honor!
Jesus said to His disciples in Matthew 16:24, "If anyone wishes to come after Me, let him deny himself, and take up his cross, and follow me." Will you come out from the crowd and take up the Lord's cross today? He carried the world, we are to carry His cross.
Is your cross bringing redemption?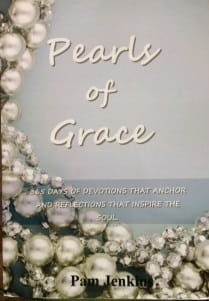 Pearls of Grace Devotional Book
Pearls of Grace is a book of devotions for the entire year, including a read through the Bible in a year calendar, broken down for every day. Beautifully written with encouraging words of hope and empowering words of joy and strength for every woman. Pam draws from the truth and richness of God's Word and gives real life examples in her down to earth style. A must have in your library, click here for more information.
For more from Pam Jenkins and Jabbok Ministries, please visit www.jabbokministries.com!
Listen to Pam Jenkins's daily broadcast on OnePlace.com.