July 27
The Ground of Hope
 "And  there is hope for your future," declares the Lord,
God is a God of hope.  He doesn't work in your past but only uses it to glorify your future.  The word "hope" in this verse means, ground of hope.  Hope is not a trinket we grasp or ask for as we need it but, rather it is a dwelling place for every child of God.  There is no place that the child of God can place there foot upon, be it good or bad, that there will not be found beneath them the soil of hope.  Because God is a God of the future, when you arrive at a place and time in your life you can know that God has already been there.  This is why there is hope when we arrive because the God of hope has passed long before us pouring out for us everything we need to be drawn upon in the passing. 
Let this sink into your soul, beloved.  There is no place that you will walk in life that will be foreign to God.   If we recognize this truth in the places we find ourselves we will catch His lingering presence among us.  This is why we are on the ground of hope!  Hebrews 6:19 assures us of this ground telling us, "This hope we have as an anchor of the soul, a hope both sure and steadfast…"  This ground of hope anchors us in to our God making our footsteps sure.
When we come upon the ground of loss, He will have for us a well spring of comfort because the comforter has already hewn it out for us to drink freely of.  When we walk the ground of confusion we can find peace because the peacemaker has tilled up the soil in peace for us to gather in its harvest.  It matters not the need of the hour because God arrived long before we got there leaving for us everything we would need for the passage.  Because He has gone before us we need not fear knowing we will have everything we need supplied by the mighty hand of God.  
Hope is a securing force in an uncertain world.  What ground do you find yourself upon today, dear one?  Is it the ground of loss, the ground of financial ruin, the ground of a broken home, a job loss, an unexpected diagnosis, a mother, father, sister or brother that has rejected  you, is it the trials of temptations, the bondage of sin, the fear of an uncertain future, loneliness or despair?  Then let me leave you with this prayer from God's Word remembering that you are treading where Holiness has trod and where He has been there is every lovely thing.  Romans 15:13 exhorts us saying; "Now may the God of  hope fill you with all joy..." 
There is no hopeless soil that my feet could ever tread upon.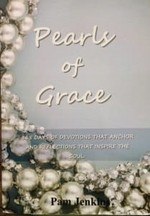 Pearls of Grace Devotional Book
Pearls of Grace is a book of devotions for the entire year, including a read through the Bible in a year calendar, broken down for every day. Beautifully written with encouraging words of hope and empowering words of joy and strength for every woman. Pam draws from the truth and richness of God's Word and gives real life examples in her down to earth style. A must have in your library, click here for more information.
For more from Pam Jenkins and Jabbok Ministries, please visit www.jabbokministries.com!
Listen to Pam Jenkins's daily broadcast on OnePlace.com.
For more from Pam Jenkins and Jabbok Ministries, please visit www.jabbokministries.com!
Listen to Pam Jenkins's daily broadcast on OnePlace.com.