June 10
The Power of His Word
"Every word of God is tested; He is a shield to those who take refuge in Him."
The devil knows and trembles at the power of the Word of God, but does the child of God also tremble?  History records that Cromwell and his Puritan warriors, while in the midst of one of their fiercest battles, stopped long enough to read Psalm 117.  When Martin Luther was braving one of his darkest hours struggling for truth and all that was right, said to his brethren, "Let us sing the 46th Psalm, 'A mighty fortress is our God."  While John Huss was bound at the stake and caught on fire for his belief in Jesus Christ, he was heard repeating with his very last breath the very words of Jesus as He himself hung on the cross, "Into Thy hands I commend my spirit."  Savonarola, on the night before his death, with left arm broken, and his shoulder pulled from its socket by his tormentors, while falling asleep was heard by his enemies saying over and over again, "The Lord is my light and my salvation, whom shall I fear?  The Lord is the strength of my life, of whom shall I be afraid."
There was once a man who had been hung by the ceiling, arms overhead while being beaten repeatedly and tortured for his faith. There his broken and battered body hung for days on end without food or water and in agonizing pain. When he could endure it no longer, he cried out to his Heavenly Father saying, "Father, my faith is dying. I am weak and I can endure the pain no longer." All of a sudden the man began to hear singing.  He cried out, "Oh what beautiful singing I hear".  The man began asking, "Where is this music coming from?"  His captors looked puzzled assuming the man to be delirious, for they heard no music, they heard no singing.  The poor beaten man continued asking about the sweet melody he was hearing and where the song was coming from.  The man soon realized with brightened face, "the song I hear is coming from within my soul."
The Word of God can never be taken out of the heart of man once it is placed there, for it is eternal.  It lives on, spanning the test of time, enduring the sufferings of this world and the pains and afflictions that come.  It is a song to the soul that sings even in the darkest of nights.  It's the mighty, holy, and enduring Word of God that gives the song in the midnight hour.
It's the pillar of fire when the path is darkened, and it steadies the foot so it will not slip.  It comforts the deepest of sorrows, and it plows through the stony places leaving only the marks of God behind it.  It wells up within us, filling us with hope, and overcomes us with joy unexplainable.  It has held steady many a suffering heart, even those of the Lord Himself.  The power of the Word of God will keep you til morning light, and it will guide you steady through the day til the sun sets.
May the treasure found in your heart be the living Word of God.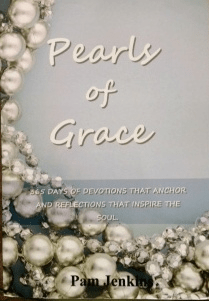 Pearls of Grace Devotional Book
Pearls of Grace is a book of devotions for the entire year, including a read through the Bible in a year calendar, broken down for every day. Beautifully written with encouraging words of hope and empowering words of joy and strength for every woman. Pam draws from the truth and richness of God's Word and gives real life examples in her down to earth style. A must have in your library, click here for more information.          
For more from Pam Jenkins and Jabbok Ministries, please visit www.jabbokministries.com!
Listen to Pam Jenkins's daily broadcast on OnePlace.com.