March 31
The Longing of The Eyes "Keep yourselves in the love of God, waiting anxiously for the mercy of our Lord Jesus Christ to eternal life."
C.S. Lewis said, "If I find in myself a desire which no experience in this world can satisfy, the most probable explanation is that I was made for another world."
Until the finality becomes reality our lives will be vulnerable to drift and decline to independent and self-centered living. We will be susceptible to be drawn away from purposeful living to ordinary life among the masses. The course of the human will must be brought under the control to the reality of the Day of Christ or we will, in the end be most sorrowful
We were created to see Jesus in all of His glory. It's what we do with the brief moment of time we are given upon this earth that will determine our stand before Christ when we see Him face to face. This Day must become a living reality if I'm to avoid lifeless living. Meaning and spiritual drive will take over your life when your focus becomes the Day of the Lord and not the day at hand. We can lose our way when we keep only today before our eyes and yesterday in our peripheral looming over our shoulders like an ominous cloud of remorse. When we lose sight of the "Day" and our faith becomes sight then we are blinded to the things of eternity. The Bondservant of Christ lives for this One Day and out of this intentional living weaves a bond with Jesus that is bound tightly with cords of eternal love. This bonding of love infuses us with such affection for Him, a longing and aching of soul for Him that we can't help but serve Him.
The Lord's heart is abundantly affectionate towards His child. When we respond to this affection by reciprocating love and devotion, we become a channel of blessing to His world. His tender mercies and compassion, in the deepest part of the soul, are unleashed in us upon the lives of all those who are languishing to know Him and experience His beauty and all sufficient security. The deeper our gaze and stronger our steadfast commitment to the Day of Christ is, the greater His love and affection will be found abiding within us. Remain anchored in the Love God has for you, not people because they will only end up disappointing you at some point in time. Our eyes long to see Jesus just as He is and in the seeing be absolutely secure in His love for us. His love will keep you pure and it will keep your eyes looking above.
See through the eyes of heaven's love.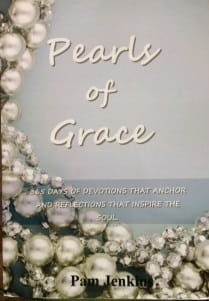 Pearls of Grace Devotional Book
Pearls of Grace is a book of devotions for the entire year, including a read through the Bible in a year calendar, broken down for every day. Beautifully written with encouraging words of hope and empowering words of joy and strength for every woman. Pam draws from the truth and richness of God's Word and gives real life examples in her down to earth style. A must have in your library, click here for more information.
For more from Pam Jenkins and Jabbok Ministries, please visit www.jabbokministries.com!
Listen to Pam Jenkins's daily broadcast on OnePlace.com.
For more from Pam Jenkins and Jabbok Ministries, please visit www.jabbokministries.com!
Listen to Pam Jenkins's daily broadcast on OnePlace.com.