May 20
Numbering Our Days
"…teach us to number our days…"
There's an aged old saying for women that goes something like this:  "You'll put your hand through your sleeve one day, and out will come your mother's hand."  It's strange to the ear when we first hear it, but as it sinks in, the light of understanding begins to dawn.  One day before we know it, time will have passed so very quickly and we will stand in wonder of it.  Look at your hands and you will see the passing of time delicately written out in every line on every bend of finger.  It's something that is before our eyes everyday yet, we hardly notice it.  So it is with the passing of time.  Even as you sit and read these few lines, time is passing.  Moments that will forever be lost never to be regained again.  There are moments in our lives when the gravity of this truth weighs greater upon our minds than at other times. 
Maybe when a child stepped onto a big yellow school bus for the first time with sheer excitement, and you thought that it was just yesterday that they had learned to walk.  Maybe when you drove away from leaving your child at college for the first time, and you thought your heart would just break in two, for it was just the other day when they learned to say their ABC's.  Maybe it was with the passing of a parent or spouse, and the passing of time weighed upon you like a heavy stone.  Time cannot be measured, not really, because we do not know how much time we have.  It cannot be stopped because God set it in motion long before you were ever born.   And time cannot be bought and it can never be replaced.  No moment in time is exactly like the one before it, nor is it like the one that will follow it. 
The Psalmist understood this truth: That time is fleeting and it will pass as quickly as the wind.  In understanding this, he cried out to the Lord for Him to teach him how to number his days, to see each day as if it were priceless and as if it were the last. He wanted to live in the reality of knowing that with each new day comes opportunities that may never come again; to embrace them as a gift from the hand of God, each one counted out by His hands and according to His perfect design.   Unless we live intentionally, we will waste our lives away.  Recognize as the Psalmist did, the need for God's help to number the days before us.  Embrace the day at hand.  Name it, don't claim it, for it doesn't belong to you.  It belongs to the One who commanded the sun to rise and shine its face upon it. 
Name the day as belonging to the Lord.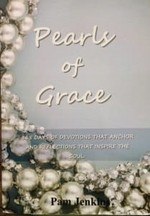 Pearls of Grace Devotional Book
Pearls of Grace is a book of devotions for the entire year, including a read through the Bible in a year calendar, broken down for every day. Beautifully written with encouraging words of hope and empowering words of joy and strength for every woman. Pam draws from the truth and richness of God's Word and gives real life examples in her down to earth style. A must have in your library, click here for more information.
For more from Pam Jenkins and Jabbok Ministries, please visit www.jabbokministries.com!
Listen to Pam Jenkins's daily broadcast on OnePlace.com.
For more from Pam Jenkins and Jabbok Ministries, please visit www.jabbokministries.com!
Listen to Pam Jenkins's daily broadcast on OnePlace.com.