November 26
A Wing Or A Weight
"Encourage the exhausted, and strengthen the feeble."
One of the greatest needs we have as Christian Women today, is the need to be encouraged daily. Life is overloaded with stress, pressures, performance expectations, and challenges with relationships, finances, careers and family obligations. We are depended on and pulled in a hundred different directions, so often, spinning our wheels faster than our "motor" can take us to where we need to go. And, to top it all off, we have the demands of the secular world to look a certain way, aging without wrinkles, keeping our bodies as if they were 19 again; adorning our walls with the proof of our successes with awards, educational accomplishments and so forth. We don't want to, we don't mean to, but with these constant bombardments, we hurl ourselves into the vicious cycle of comparison. We compare ourselves with others and when this happens, which it does and will, we end up in the pit of discouragement.
Feeling like failures, we seek, even yearn to better ourselves, not for God's glory, but from the pressures that rise from the depths of disappointment that comes when we compare ourselves with others. Surrounded by such clouds of disappointment and storms of demands upon every area of our lives, we need to have a storehouse of encouragement; a place we can run into and gather daily what we need. One of those storehouses is other sisters in Christ. Each of us should be a storehouse, beloved, a source of strength and hope for those who so desperately need it to make it through their day or their situation. Endurance is not just a dream when we have a ready supply of encouragement. The reality is, we need each other in the body of Christ and even more as we see the day of Christ approaching. The closer He gets to His approach, the stronger our need for hope and strength; the greater the necessity to endure hardship, pressures and tests. We are the body of Christ and each one of us must do our part to maintain the spiritual and emotional health of the entire body.
Knowing the hour of great need, beloved, what kind of encourager, sister in Christ, should we be to one another? This should be our mentality as sisters in Christ; picking one another up and hand in hand press on toward the prize of Jesus. We've lost the "no man left behind" philosophy and replaced it with the "every man for himself" philosophy instead. Let us make haste out of the crowd of selfish living and give ourselves unto those who have fallen, stumbled, or have given up on the prize. Have you encouraged your sisters in the Lord today? Are you a source of strength or weakness? I pray you will be a wing rather than a weight in the lives of others.
Make Me A Wing That I may Cause Others To Soar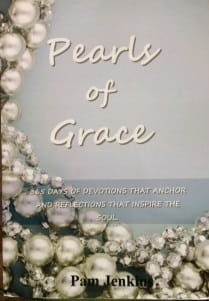 Pearls of Grace Devotional Book
Pearls of Grace is a book of devotions for the entire year, including a read through the Bible in a year calendar, broken down for every day. Beautifully written with encouraging words of hope and empowering words of joy and strength for every woman. Pam draws from the truth and richness of God's Word and gives real life examples in her down to earth style. A must have in your library, click here for more information.
For more from Pam Jenkins and Jabbok Ministries, please visit www.jabbokministries.com!
Listen to Pam Jenkins's daily broadcast on OnePlace.com.