November 30
Remembering the Saints
"Grace to you and peace from God our Father and the Lord Jesus Christ. I thank my God in all my remembrance of you, always offering prayer with joy in my every prayer for you all."
As remarkable and wondrous as God's grace and peace are, it's easy to be so thirsty for them in our lives that we unknowingly hoard them for ourselves. In our need to stockpile these Christian life necessities, we overlook one another's need because we are too busy tending to our own. The selfless Christian will regard one another as more important than self by pursuing the needs of others while forsaking their own. Denial of self is, and will be, the fiercest battle we will face in our Christian life. Our very nature seeks the opposite of this lifestyle and will be a relentless enemy of the soul until the Lord calls us home. It's the "Civil War" of our life and will continue to divide us until the battle is over for good. But know this, precious one, your flesh will never wave the flag of surrender.
Understanding this age-old battle, we, as the body of Christ, must uphold one another through prayer, exhorting one another to run the race with endurance; fighting the good fight of faith. Self-absorbing and self-indulgence is the characteristic of the world and is quite the norm. In fact, when you choose not to serve yourself, your considered abnormal. The world teaches that it's perfectly acceptable to forsake all others to get your own needs met, not caring who gets hurt or left out in the process; as long as you get what you need and what you want, it doesn't matter what you do. There will always be a trail of casualties that follow the path of the flesh! God's way is the complete opposite beloved; count one another as more important than your own self. In fact, Jesus reminded us that it was the second greatest commandment in all the Word of God. First, was to love the Lord your God with all your heart, soul and mind; second was to love your neighbor as yourself. We're never told to love ourselves!
We are the arms of God for one another created by God to hold one another up as we journey through this world. God doesn't intend for any of us to make this journey alone; without encouragement, without love and support from other brothers and sisters in Christ. This is why He designed us as the Body of Christ. I read a plaque that said: "You sing the words to me, when my soul has forgotten the song". Each and every one of us have been through, are going through, or will go through those times when our soul cannot sing, it cannot pray or even survive unless another soul comes along side and carries it onward.
When was the last time you just simply, and purely loved another with the love of Christ; unrushed, without prompting and unconditionally? How much do you talk about yourself and your own problems to others? Are you your topic of conversation with others? Painful question, I know! Mother Teresa believed in the little, ordinary things that God uses to build extraordinary lives. Let me share a portion of her prayer for others.
May today there be peace within 
May you trust God that you are exactly where you are meant to be 
May you not forget the infinite possibilities that are born of faith 
Make Me The Voice Of The One Who Has Lost The Strength Even To Pray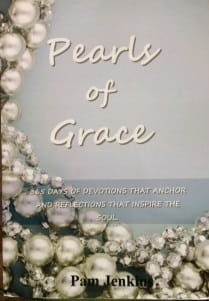 Pearls of Grace Devotional Book
Pearls of Grace is a book of devotions for the entire year, including a read through the Bible in a year calendar, broken down for every day. Beautifully written with encouraging words of hope and empowering words of joy and strength for every woman. Pam draws from the truth and richness of God's Word and gives real life examples in her down to earth style. A must have in your library, click here for more information.
For more from Pam Jenkins and Jabbok Ministries, please visit www.jabbokministries.com!
Listen to Pam Jenkins's daily broadcast on OnePlace.com.