October 10
Who Do You Belong To?
" Then the king ordered Ashpenaz, the chief of his officials, to bring in some of the sons of Israel, including some of the royal family and of the nobles, 4 youths in whom was no defect, who were good-looking, showing intelligence in every branch of wisdom, endowed with understanding and discerning knowledge, and who had ability for serving in the king's court; and he ordered him to teach them the literature and language of the Chaldeans."
Imagine your world secure, loving and God fearing having everything you need. Imagine being young having your whole future laid out before you as a blank canvas awaiting the brush strokes of the Master Artist. The possibilities are endless and full of promise for the things yet to be. What does the future hold? The sheer wonder of what will be lingers in the chambers of hope stored up for tomorrow. You love Jehovah with all of your being, assured that your future is bright and secure because you are His child. You have been gifted with wisdom and great abilities by the hand of God so you know He has great plans for your life. Your heart is confident, settled in the presence of your God who loves you.
Then, without warning, pagans enter your beloved city ravaging every home, plundering the holy places bringing shame and invading fear. You watch as your loved ones are slaughtered helplessly before you, men, women and children. Homes are burned and precious lives trampled underfoot by godless men. As the only home you have ever known rises in the flames of destruction you are bound hand and foot with the shackles of your enemy. Against the backdrop of death and the screams of your loved ones, you are led away captive to unknown land as a lifelong slave. Who knows what awaits you in the pagan land of your captors, the murderers of all that you held so dear. The familiar has been savagely torn from your grip and your future is no more.
Sounds like a scene from a war story doesn't it? This was the reality of a young teenage Hebrew boy by the name of Daniel. His story and that of his three companions is compelling to the soul and riveting to the heart of faith. What would you do beloved, if everything you held dear was torn from your life by the hands of godless people? How would you respond? Where would you turn? How would you make it through such darkness, such pain and hopelessness? The life of a young Hebrew boy resonates with hope for all who suffered or have suffered the loss of great things. He is living proof that hope is an anchor of the soul. Amy Carmichael wrote these words that express what a heart that has known brokenness would understand:
We follow a scarred Captain,
Should we not have scars?
Under His faultless orders,
We follow to the wars,
Lest we forget, Lord, when we meet,
Show us Thy hands and feet
There is peace in the face of our enemies, songs of praise upon the altar of sacrifice; it's found inscribed within every heart that bears the inscription of Jehovah God;"Belonging to the LORD". These words are the Christian creed for every soul and no doubt is a truth that held those steadfast Hebrew boys and it will secure yours as well.
I am secure in him.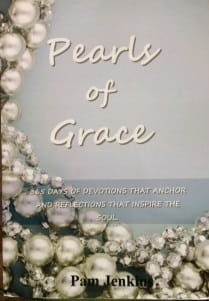 Pearls of Grace Devotional Book
Pearls of Grace is a book of devotions for the entire year, including a read through the Bible in a year calendar, broken down for every day. Beautifully written with encouraging words of hope and empowering words of joy and strength for every woman. Pam draws from the truth and richness of God's Word and gives real life examples in her down to earth style. A must have in your library, click here for more information.
For more from Pam Jenkins and Jabbok Ministries, please visit www.jabbokministries.com!
Listen to Pam Jenkins's daily broadcast on OnePlace.com.