October 15
Fearless
"In the fear of the LORD there is strong confidence, And his children will have refuge."
As a little girl, I was terribly afraid of the dark. I would look under my bed several times before getting into bed and anywhere else that I thought someone could hide. I was consumed with fear; fear of everything. I had a fear of strangers, a fear of pain, fear of taking medicine, a fear of rejection, a fear of speaking, and of many other things but the dark was my greatest of all. In the dark anything could happen to you; when you're a little kid. I couldn't wait to grow up so I wouldn't be afraid anymore. The problem was that my fear never left; it was content to grow up with me only into greater fear. Being a "grown up" didn't solve any of my child like struggles; they only got bigger.
We never outgrow fear. But we can grow beyond our fears when we come to know Who God is and more importantly Who He is to us. God teaches us that there is a fear that brings confidence. Sounds like an oxymoron doesn't it? It's a treasured principle for God's child. When we turn our many fears to only fear One, then something powerful begins to happen that transforms our many fears into confidence. If we will revere God, which means to have a respectful fear of dishonoring Him, then we are opening the door of a mighty refuge to run into and be safe. In this fear of God, we are given a place of protection; a place we can run into a hide. It's not a literal place built with bricks and mortar but rather it is a place of spiritual and emotional well being that our mind takes us to as we acknowledge Who God is. He captures the fear within us as we confess our love and adoration for Him.
When we fear no one but Him, we will have no fear of anyone else or anything. God gives us a confidence beyond our own abilities and weaknesses. He supports our emotions and washes over our intimidations with courage of soul. There is no fear greater than Him and in Him we are found to be great.
Have no fear except of Him who calms every fear.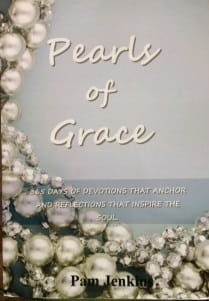 Pearls of Grace Devotional Book
Pearls of Grace is a book of devotions for the entire year, including a read through the Bible in a year calendar, broken down for every day. Beautifully written with encouraging words of hope and empowering words of joy and strength for every woman. Pam draws from the truth and richness of God's Word and gives real life examples in her down to earth style. A must have in your library, click here for more information.
For more from Pam Jenkins and Jabbok Ministries, please visit www.jabbokministries.com!
Listen to Pam Jenkins's daily broadcast on OnePlace.com.