October 17
He is for You
"What then shall we say to these things? If God is for us, who is against us? He who did not spare His own Son, but delivered Him over for us all, how will He not also with Him freely give us all things?"
It was a heart stopping scene as it played out on worldwide television. It was the Summer Olympics and a father was seated in the stands watching his son compete in a race that had taken him years and countless struggles to get to. No one would know the hours and sacrifices that it took to get to that point and time but one; his father. He had been at every practice, every grueling work out and training session, through every injury along the way, the losses of other competitions, the discouragement, trials and determination. If anyone knew the cost of being at the Olympics, it was this dad. He had watched his beloved son give his entire life to this one defining moment and now it was playing out before his eyes.
The racers took their places as they proudly wore their countries colors. Each and every one of them had sacrificed their entire lives for this race. The gun fired and the determined racers launched into the run of their lives. The father was the edge of his seat cheering his on with every turn. But on that final lap it was obvious that it was going to be a fight all the way to finish line. As his son made the final curve and began to lean into that final stretch with all he had, something happened. Another runner bumped on the backside of the turn causing the young runner to fall. It was a bad fall. His ankle seemed to be broken and although he struggled to get up so he could finish, it was obvious he wasn't going to make it. It was heartbreaking to watch.
Out of the stands came a hero; one who could not be stopped or detoured from his purpose. Valiantly, with great determination he headed straight for the wounded runner. As he reached down to pick he up, he said, "you're going to the finish line and I'm going to make sure you get there." The son's father wasn't content to sit back and do nothing. You see, he was his biggest fan. He was on his son's side. His heart was for him to make it, even if it wasn't first place. A father's love is protective and strong.
The love and heroism of this father is a beautiful picture of God's love for us.
God is on our side. He wants us to make it. He's been with us through every trying and painful moment of the journey and He will stay the course with us to make sure we cross the finish line. And if we fall on that home stretch, even then, He will race to our side and carry us across if necessary. God is on your side, beloved daughter. He's your biggest supporter and He will do everything within His power to ensure that you make it.
I have a fan in the stands.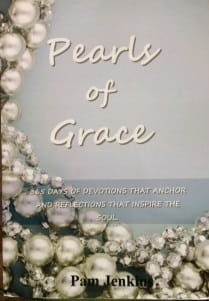 Pearls of Grace Devotional Book
Pearls of Grace is a book of devotions for the entire year, including a read through the Bible in a year calendar, broken down for every day. Beautifully written with encouraging words of hope and empowering words of joy and strength for every woman. Pam draws from the truth and richness of God's Word and gives real life examples in her down to earth style. A must have in your library, click here for more information.
For more from Pam Jenkins and Jabbok Ministries, please visit www.jabbokministries.com!
Listen to Pam Jenkins's daily broadcast on OnePlace.com.