October 20
Wide Receivers
"So he departed from there and found Elisha the son of Shaphat, while he was plowing with twelve pairs of oxen before him, and he with the twelfth. And Elijah passed over to him and threw his mantle on him."
I Kings 19:19
Although I'm no sports enthusiast, especially football, I have become slightly familiar over the years with some of the terms such as wide receiver. I don't believe any woman would want to be called a "wide" anything! But, there is a wonderful example given in God's Word of a receiver that rocked his world all because of the pass that was thrown him from Heaven. It's Elisha, Elijah's protégé. Elisha was a farmer who went out to work his fields one day and while he was plowing away a great prophet of God passed pay and hurled his cloak upon him. I believe, precious one, that some things are wrought while others are just plain caught! Sometimes God brings about change and truth in our lives over time and with much labor while other things He hurls at us with no warning and in the blink of an eye our lives change forever. This is what happened to Elisha.
Elisha was looking to plow up the life of a field but God was looking to plow up the life of a man. God chose this young farmer to fill the shoes of another when it was time. He knew that if given the choice Elisha would have never chosen this path for himself. With God's callings come joy and fulfillment that one has never known or could ever know but they also come with challenges, denial of self, the road less traveled, and great responsibility. It's these callings that God often casts upon our lives when we least expect it because if given a warning ahead of time, we would probably run! God, in His graciousness, doesn't allow us to see it ahead of time nor does He peel back the future struggles and pains we will experience, for us to view.
Has God cast His mantle upon your life beloved and now you don't know what to do? Has God caught you by surprise as He has called you to do the impossible, just an ordinary person against great odds? Maybe you are struggling with the ministry to which God has called you because you view yourself as inadequate or it is not the ministry you have planned for so many years to have; what are you to do? You are to do as Elisha did that day plowing in the fields; take up the mantle God cast upon you, leave your fields and run after God. God chose Elisha to replace Elijah; because the callings of God are not up for our choosing, they are His choosing of us and His choosing alone. And oh what God did with Elisha's life! He received what God passed to Him and because of it God poured out a double portion of His Spirit upon his life. Have opened up your arms to catch what God has thrown you? Then take it and run with it beloved, and never look back.
Keep My Arms Open To Receive Your Gifts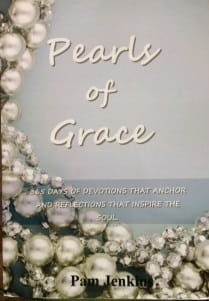 Pearls of Grace Devotional Book
Pearls of Grace is a book of devotions for the entire year, including a read through the Bible in a year calendar, broken down for every day. Beautifully written with encouraging words of hope and empowering words of joy and strength for every woman. Pam draws from the truth and richness of God's Word and gives real life examples in her down to earth style. A must have in your library, click here for more information.
For more from Pam Jenkins and Jabbok Ministries, please visit www.jabbokministries.com!
Listen to Pam Jenkins's daily broadcast on OnePlace.com.