October 23
The Gift of Praise
"They are to stand every morning to thank and to praise the LORD, and likewise at evening."
I Chronicles 23:30
The greatest gift we could ever offer to God is the gift of praise. Every morning as we rise, the hope of Heaven is that we will stand to give praise to God before we do anything else. And when the evening comes, we are to go down praising just as we went up praising! When we start our day this way, we will find ourselves standing in praise all the day long. God wants a sunrise and a sunset of praise from His children. Beginning to end, we are to praise our Heavenly Father. It gives Him the glory and the attention of our heart. This is one way that we express our love for God in action. Praise is an action precious daughter and love is to be active. There is not a greater expression of love than to publicly and audibly give adoration for the one you love. What an honor to speak highly of your love before the presence of others. God loves our praise in private but He receives honor when we praise Him publicly. May we pray this prayer today offering up all of our praise to Him and at the close of our day, may we do the same.
Father in Heaven,
I bow before You in humble surrender worshiping You because You are God my Creator. I confess that You are worthy of my praise, my loyalty, love and service. I declare my love for You today unashamedly. I proclaim my dependency upon You knowing without my God I will surely fail. I admit my many faults and failures to You asking for Your forgiveness in full. Cleanse me from every stain O God allowing me to stand before You holy without blemish. Cause all things, past, present and future to work together for my good and for Your glory. Take my life in the hands of Your might and strength and do great things for Your Kingdom. I pray Your Kingdom come and for Your will to be done in all things.
You are greater than all my problems, all my shortcomings and any mistake I have made or will make. And halleluiah Father, Your grace is greater than all my sins! Today is a new beginning with You because You are a God of mercy. Fall fresh upon my life filling me with a new perspective for eternity. Change me O God and make me more like Jesus today than I was yesterday.
This day You have made for Your good pleasure. It is not my day, but it belongs fully to You. You deserve all of me and I gladly give it. What a God You are! All I need is found in You Father. I offer up all of my praise to You. In the sweet name of Jesus I pray.
You have all of my praise today.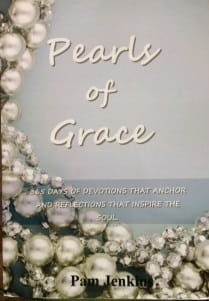 Pearls of Grace Devotional Book
Pearls of Grace is a book of devotions for the entire year, including a read through the Bible in a year calendar, broken down for every day. Beautifully written with encouraging words of hope and empowering words of joy and strength for every woman. Pam draws from the truth and richness of God's Word and gives real life examples in her down to earth style. A must have in your library, click here for more information.
For more from Pam Jenkins and Jabbok Ministries, please visit www.jabbokministries.com!
Listen to Pam Jenkins's daily broadcast on OnePlace.com.