Week 12
Created For a Purpose
When Elizabeth heard Mary's greeting, the baby leaped in her womb, and Elizabeth was filled with the Holy Spirit. Luke 1:41
John the Baptist leapt in his mother's womb, and I'm sure Luke—a physician—purposefully referred to him as a "baby," not a "clump of tissue" that leapt. "A person's a person no matter how small"; a baby's a baby even in utero. Jeremiah 1:5 tells us even more about God's awareness of precious unborn children: "I knew you before I formed you in your mother's womb." Later in Jeremiah we read, "'For I know the plans I have for you,' declares the Lord, 'plans to prosper you and not to harm you, plans to give you hope and a future'" (Jer. 29:11). When that sinks in, we realize God's omnipotence. We understand the truth that He created us for purpose; promising plans for good and not harm. Our Father does love every child and has plans for each. He has from the beginning.
Sweet Freedom in Action
Since God knows you better than you do, He can make the call on your life evident when you ask Him. Live out that calling with courage, knowing it is good!
---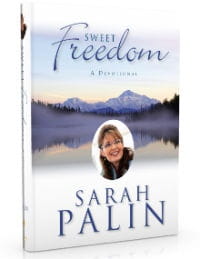 In Sweet Freedom, Sarah Palin invites you to draw strength and inspiration from 260 meditations based on guiding Biblical verses. You are not alone in your doubts and anxieties—we all bear the burdens of everyday stresses, and for most of us, our concerns spread beyond our selves to our families, communities, and country. But Palin shows that with abiding faith, and by opening ourselves to the truths that have saved mankind for generations, we can thrive—and experience true freedom.