Week 50
The Truth About Love: It's Messy
One who has unreliable friends soon comes to ruin, but there is a friend who sticks closer than a brother. Proverbs 18:24
We don't typically associate love with a command. We tend to see it as a feeling, which explains why when feelings fluctuate—as they do—we can easily check out of relationships that once had meant the world to us. We say we "just don't love them anymore." And it's true; we don't feel that we love them anymore, but that's because we've disobeyed the Lord's commandment to love one another.
Today's commitments seem so easily broken. So many marriages end in divorce; an incalculable number of people "uncouple" with their former friends.
But as Christians we should choose to love. We should choose to hang in there when times are rough. We should choose to believe the best in one another. We should choose to sacrifice for our family and friends.
One of the greatest gifts God has given us is friendship. I have been blessed with a loyal circle of sisters and lifelong girlfriends. We've gone through life's ups and downs, including births and deaths, marriages and splits, and now we experience our children's ups and downs, too...all together. Even when life gets turned inside out, we're there for each other. God intends that through friendship we might learn to love others the way He loves us. It's a tall order, but definitely worth the effort.
Sweet Freedom in Action
Today, forgive friends and family for any imperfections. Remember, we're not all we're cracked up to be either.
---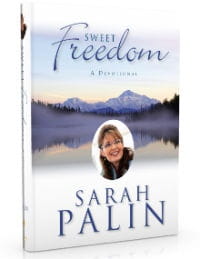 In Sweet Freedom, Sarah Palin invites you to draw strength and inspiration from 260 meditations based on guiding Biblical verses. You are not alone in your doubts and anxieties—we all bear the burdens of everyday stresses, and for most of us, our concerns spread beyond our selves to our families, communities, and country. But Palin shows that with abiding faith, and by opening ourselves to the truths that have saved mankind for generations, we can thrive—and experience true freedom.