Week 6
Trusting God with Your Reputation
A good name is more desirable than great riches; to be esteemed is better than silver or gold. Proverbs 22:1
Funny how you can go from hero to zero in the time it takes a bull moose to charge a noisy hunter coming too close to home. "Governor Palin is the most popular governor in the country," Senator John McCain said in 2008. I was humbled to hear campaign staff confirm to reporters I had the highest approval rating of any governor, at 86 to 90 percent. Then, I was chosen to run for vice president. Many of you witnessed it and stuck with me anyway through that "adventure." Some days, back then and during the continued onslaught, I asked myself, "So where do I go to get my reputation back? My family's reputation?" Charles Spurgeon wrote, "In the matter of personal reputation we may especially be content to be quiet, and leave our vindication with the Judge of all the earth. The more we fret in this case the worse for us. Our strength is to sit still. The Lord will clear the slandered. If we look to his honour, he will see to ours." I'm thankful I only have to rely on Christ—not my press clippings—for salvation.
Sweet Freedom in Action
Today, identify people who don't think well of you. (It shouldn't be hard. Their opinion probably annoys you like a tiny disruptive mosquito buzzing all night in your zipped-up tent, making it hard to rest.) If you've wronged them, ask for forgiveness. If not, ask God to remove your worry. God answers. He'll swat that mosquito away, and you will rest.
---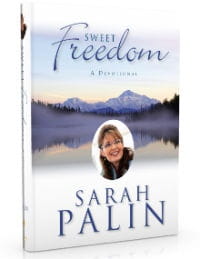 In Sweet Freedom, Sarah Palin invites you to draw strength and inspiration from 260 meditations based on guiding Biblical verses. You are not alone in your doubts and anxieties—we all bear the burdens of everyday stresses, and for most of us, our concerns spread beyond our selves to our families, communities, and country. But Palin shows that with abiding faith, and by opening ourselves to the truths that have saved mankind for generations, we can thrive—and experience true freedom.