Week 51
The Wounds of a Friend
Better is open rebuke than hidden love. Wounds from a friend can be trusted, but an enemy multiplies kisses. Proverbs 27:5-6
Most people like to have loved ones tell us how wonderful we are and how rosy life is. If those are the only people we keep close, though, we don't grow. Friendships built on praise alone, those that only celebrate the good times, are not whole relationships. Some of the most important people in our lives are friends who'll say, "You're dead wrong," or warn, "She's no good for you," or even, "You've got a mint? No, not for me. For you." Those are the wounds to suck up because they come from people we trust.
This is not a popular message in today's culture where people get thrown for a loop after hearing some truth...not after our egos have been tickled all our lives. In my book America by Heart I called this out, dubbing this a "culture of undeserved self-esteem." Whatever you think of the show American Idol, it's at least a corrective, a real eye-opener for many, because suddenly people who've been told all their lives that they sing like Whitney Houston have to come face-to-face with reality. It's often not pretty and the judges can be harsh, but if a trusted friend had been truly honest along the way, the contestant might have found a better way to spend their time, money, effort, and resources. Honesty really is the best policy.
Sweet Freedom In Action
Welcome real friendships into your life, and when someone you trust gives you a word of constructive criticism and correction, consider it and apply it. Equally important, love your friends enough to be honest with them as well.
---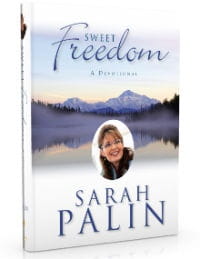 In Sweet Freedom, Sarah Palin invites you to draw strength and inspiration from 260 meditations based on guiding Biblical verses. You are not alone in your doubts and anxieties—we all bear the burdens of everyday stresses, and for most of us, our concerns spread beyond our selves to our families, communities, and country. But Palin shows that with abiding faith, and by opening ourselves to the truths that have saved mankind for generations, we can thrive—and experience true freedom.