Week 2
Forgive Me, For I Have Sinned
... for all have sinned and fall short of the glory of God ... Romans 3:23
Every single human being has sinned and will sin again. Darn it. I'm right there at the top having to acknowledge mine. Double darn.
I was baptized Catholic as a baby, part of a big, loyal Irish Catholic family led by our patriarch, Grandpa Clem Sheeran.
Later, when I became of age to make the conscious decision to publicly testify of my walk with Christ, I was baptized in the icy waters of Little Beaver Lake. When Pastor Riley dunked me under the name of the Father, Son, and Holy Spirit, I was then lifted out of the water and...I was still the same Sarah Heath.
Yes, I'd just testified to joining the "righteousness of Christ Jesus," but I still lived in the fallen world, a world overrun by sin, which is easy to see just by looking at the news, or in the mirror.
No one is perfect, and in case we forget that, this verse bluntly reminds us we all need the mercy of God in the midst of our mess. And friends, with all due respect, we are a mess. Consider the example of our elected national leaders supporting a treaty with Iran that lifts sanctions against this enemy nation instead of punishing its evil acts—while still fully acknowledging that it's the top sponsor of worldwide Islamic terrorism and is hell-bent on destroying both America and Israel. Yes, we are a mess. Lord have mercy.
And what about us? It may be a hard-to-accept truth, but fallen man's nature puts us all in the same boat until we ask for the life-saving newness God offers. Accepting it is the only way to clean up the mess.
It's an important step to honestly admit that we try to excuse things in our own lives because they don't seem as bad when compared to what someone else has done. But we've got to call those things what they are: sin. Only then can we repent and be forgiven.
Sweet Freedom in Action
Today, examine your conscience, confess your sins, and rest in the comfort of the Lord's forgiveness.
---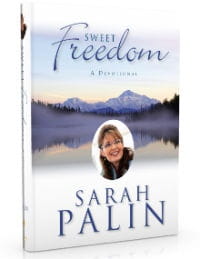 In Sweet Freedom, Sarah Palin invites you to draw strength and inspiration from 260 meditations based on guiding Biblical verses. You are not alone in your doubts and anxieties—we all bear the burdens of everyday stresses, and for most of us, our concerns spread beyond our selves to our families, communities, and country. But Palin shows that with abiding faith, and by opening ourselves to the truths that have saved mankind for generations, we can thrive—and experience true freedom.