Week 26
Experience the Rainbow
And God said, "This is the sign of the covenant I am making between me and you and every living creature with you, a covenant for all generations to come: I have set my rainbow in the clouds, and it will be the sign of the covenant between me and the earth. Whenever I bring clouds over the earth and the rainbow appears in the clouds, I will remember my covenant between me and you and all living creatures of every kind. Never again will the waters become a flood to destroy all life. Whenever the rainbow appears in the clouds, I will see it and remember the everlasting covenant between God and all living creatures of every kind on the earth." So God said to Noah, "This is the sign of the covenant I have established between me and all life on the earth." Genesis 9:12–17
There's just something about a rainbow! The first one appeared after Noah and his family emerged from the horrifying experience of the worldwide flood, and it was a sign of God's beneficence and His trust in Noah. Today, people still marvel at the beauty of a rainbow. It remains a sign that after every storm and flood in our own lives, there is a rainbow, there is salvation waiting for us in God's mercy. We should be as excited about that mercy as that man in the YouTube video marveling at the rainbow.
Sweet Freedom in Action
Today, view your trials as preparation for the next phase of life God is drawing you toward, and be thankful for His promises.
---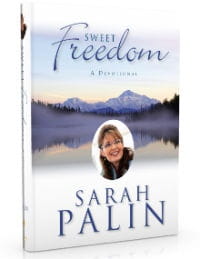 In Sweet Freedom, Sarah Palin invites you to draw strength and inspiration from 260 meditations based on guiding Biblical verses. You are not alone in your doubts and anxieties—we all bear the burdens of everyday stresses, and for most of us, our concerns spread beyond our selves to our families, communities, and country. But Palin shows that with abiding faith, and by opening ourselves to the truths that have saved mankind for generations, we can thrive—and experience true freedom.