Week 21
Bite Your Tongue
Do not let any unwholesome talk come out of your mouths, but only what is helpful for building others up according to their needs, that it may benefit those who listen. Ephesians 4:29
Remember your mom admonishing, "If you don't have anything nice to say, don't say anything at all"? If only more people followed that nearly golden rule. "I'm exercising my freedom of speech!" some insist, while spouting words that are anything but edifying. Do you often give someone a piece of your mind? I confess to it—and most of us probably have pieces of our minds all over creation! As we grow in grace, however, we're to exercise freedom of speech more responsibly— in a manner that uplifts, rather than destroys. Even when we have to correct, even when we disagree, we can speak truth in love, and sometimes, just bite the ol' tongue and remember the song, "You say it best when you say nothing at all." I know all about being verbally attacked. I need God's help and wisdom, sought through prayer, because left to my own devices, the words I want to speak in response may not bring edification or grace, believe me.
Sweet Freedom in Action
Today, remember that with freedom comes responsibility. So while you are free to say what you want, choose your words wisely, and acknowledge that sometimes it is best to say nothing at all.
---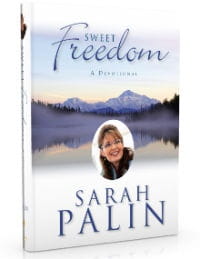 In Sweet Freedom, Sarah Palin invites you to draw strength and inspiration from 260 meditations based on guiding Biblical verses. You are not alone in your doubts and anxieties—we all bear the burdens of everyday stresses, and for most of us, our concerns spread beyond our selves to our families, communities, and country. But Palin shows that with abiding faith, and by opening ourselves to the truths that have saved mankind for generations, we can thrive—and experience true freedom.