Week 8
Worship God for Who He Is
At this, Job got up and tore his robe and shaved his head. Then he fell to the ground in worship and said: "Naked I came from my mother's womb, and naked I will depart." Job 1:20–21a
Job provides a peek into true worship. Here he'd lost everything—his children, his servants, his livestock. You'd think Job would be utterly destroyed as a person amid all that loss, but he still worshipped God, despite his profound grief. How? Well, worship is not about our circumstances. It is not even about what God has done. Worship is about one thing and one thing only: the fact that God is. Just because He is, He deserves our devotion—our lifted hands, our bowed knees; He is our creator and our salvation. When we're new to the faith, we're excited when everything goes well and when "God comes through." But true worship goes deeper and often comes from tear-stained faces: if a Blue Star mom becomes a Gold Star mom, if a father loses his job, if a family is left with a ruined home after a natural disaster. Sincere and impacting worship can come from a deep place of sorrow and confusion. But that's when God's mercy shines down.
Sweet Freedom in Action
Today, practice blessing the name of the Lord in good times and in bad. In the fullness of time, God works all things for good.
---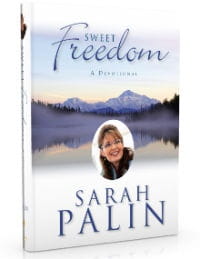 In Sweet Freedom, Sarah Palin invites you to draw strength and inspiration from 260 meditations based on guiding Biblical verses. You are not alone in your doubts and anxieties—we all bear the burdens of everyday stresses, and for most of us, our concerns spread beyond our selves to our families, communities, and country. But Palin shows that with abiding faith, and by opening ourselves to the truths that have saved mankind for generations, we can thrive—and experience true freedom.