Week 16
Mom's Right: More honey, less Vinegar
Now that you have purified yourselves by obeying the truth so that you have sincere love for each other, love one another deeply, from the heart. 1 Peter 1:22
I often think that "social media" is anything but. Have you noticed that rather than actually bringing people together in a fruitful way, it often leads to bullying and recriminations and senseless arguments? I've about had it up to here with social media, but I have to acknowledge it's here to stay, in some form, so let's rethink reactions that are becoming habitual. Before "unfriending" someone, take a second. Why did God put that person in your life . . . or at least on your social media feed? With all the acrimony between liberals and conservatives over issues like immigration law and order, welfare reform, many social issues, and everything else . . . well, it's easy to become isolated in our stance on biblical truths.
Sweet Freedom in Action
Try this: do something kind for your liberal neighbor today. See if doors open with a sincere offer of hospitality. Hold the vinegar, and bring the honey of Christian charity and love.
---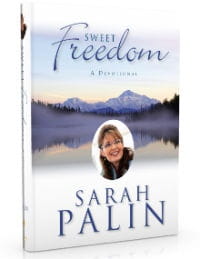 In Sweet Freedom, Sarah Palin invites you to draw strength and inspiration from 260 meditations based on guiding Biblical verses. You are not alone in your doubts and anxieties—we all bear the burdens of everyday stresses, and for most of us, our concerns spread beyond our selves to our families, communities, and country. But Palin shows that with abiding faith, and by opening ourselves to the truths that have saved mankind for generations, we can thrive—and experience true freedom.