Week 37
Just a Minute
A thousand years in your sight are like a day that has just gone by, or like a watch in the night. Psalm 90:4
Heard the one about the boy who asked how long a million minutes was to God?
"Oh, son, a million minutes is like just one minute to me!"
"Wow! What about a million dollars, God?"
"Child, a million dollars is just one penny!"
"Okay then, God—may I have a penny?!"
"Of course, precious son!" God promised. "In a minute."
Do you ever feel like you're waiting on God to provide, and
He just isn't hearing? Like your self-established deadline has come and gone with- out a peep from the Almighty?
You're not alone. We scratch our heads as God seems to take His precious time. But it actually is HIS time. He created it. He's above it.
The good news? The incredible riches of the kingdom of heaven are worth whatever wait God imposes. And, indeed, He knows best. He pro- vides according to His will more than we ever ask or imagine.
The immeasurable gifts of God are available in a divinely appointed time. It has to fit into His blueprint for your life; it's guaranteed to be perfect timing.
Sweet Freedom in Action
Today, stop fretting about when your prayer will be answered, and real- ize that, with faith, your prayer will be answered when the time is right.
---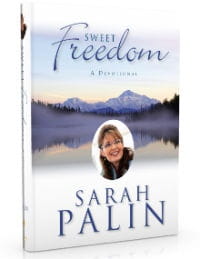 In Sweet Freedom, Sarah Palin invites you to draw strength and inspiration from 260 meditations based on guiding Biblical verses. You are not alone in your doubts and anxieties—we all bear the burdens of everyday stresses, and for most of us, our concerns spread beyond our selves to our families, communities, and country. But Palin shows that with abiding faith, and by opening ourselves to the truths that have saved mankind for generations, we can thrive—and experience true freedom.