A Christmas That Is
"Behold, I stand at the door and knock. If anyone hears My voice and opens the door, I will come in to him and dine with him, and he with Me." - (Revelation 3:20)
The risen living Christ sends a letter to a Church in Laodicea, as recorded in Chapter Three of the Revelation. The whole Church of Jesus Christ has been reading that letter for 2000 years. The risen Christ wishes they were hot, but if they are not going to get hot He would rather they be cold. Because they are neither cold, nor hot, but lukewarm – they make Him want to throw up!
He then tells them how to have a Christmas that is and can be all day long, every day of the year. It is as if their life is a house and their heart is the door to that house. He is knocking on that door. He is patiently waiting for them to open that door and invite Him into all the meaningful areas of their life.
Verse 19 makes it clear that His knocking is chastisement which He wants to grow into repentance. His inspired metaphor illustrates and demonstrates repentance. It would seem there is no latch on the outside of the door. The door must be opened from the inside.
Martin Luther wrote a Christmas carol that uses a similar metaphor: "Holy Jesus, precious Child make Thee a bed soft, undefiled, within my heart that it may be a quiet chamber kept for Thee."
In our church on Christmas Eve children sing: "Christmas isn't Christmas till it happens in your heart. Somewhere deep inside you that's where Christmas really starts. So give your heart to Jesus. You'll discover when you do, that it's Christmas, really Christmas for you!"
---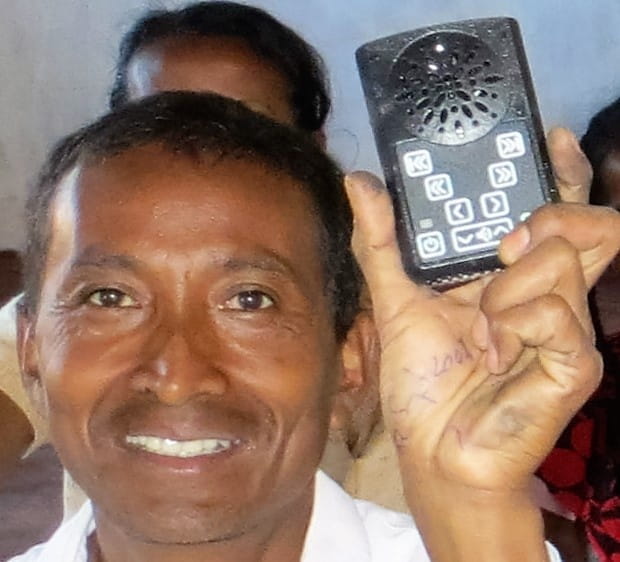 Give MBC to developing nations
Do you love The Mini Bible College by Dick Woodward? We do, too! That's why ICM has translated MBC into more than 40 languages and distributes it for free to church leaders, pastors and small groups all over the world.