Is Your Hope Alive?
By Skip Heitzig
If there's one thing the world desperately needs, it's hope. Even in America, where we have every creature comfort available to us, most people are unhappy with their lives and feel a sense of purposelessness.
But if there's one thing Christians have in abundance, it's hope. In 1 Peter 1:3-4, the apostle Peter wrote, "Blessed be the God and Father of our Lord Jesus Christ, who according to His abundant mercy has begotten us again to a living hope through the resurrection of Jesus Christ from the dead, to an inheritance incorruptible and undefiled and that does not fade away, reserved in heaven for you."
In other words, we've been born into a living hope through Jesus' resurrection. What exactly does that mean? Think about it from Peter's perspective. He was a fisherman and had a pretty routine life: he'd get up early in the morning, go fishing on the lake all day, come back home, go to bed, and get up the next day and do it all again.
Maybe you're thinking, Come on, that's heaven! Not when it's your job. Anything can become routine, whether you work a forty-hour week or you're a stay-at-home parent. Peter's life was monotonous—hopeless, even—until one day a man named Jesus walked into his life and said, "Follow Me, and I will make you a fisher of men." Now Peter had hope. Now he had a purpose greater than himself to live for.
Then Jesus died, along with any hope Peter had. Jesus made a whole lot of promises, but what good were they if He was dead?
Then something happened to revive Peter's hope and keep it alive forever: the resurrection. That would do it, right? When the guy you hoped in died and came back to life, your hope would go ballistic. Because that would mean every single promise He made about eternal life was true (see John 5:24; 11:25; 14:6, 19 for a sampling).
Right before Jesus died on the cross, what was Peter doing? Cowardly denying Jesus. But then you open the book of Acts and Peter is suddenly courageous. He's bold. He's walking around Jerusalem preaching about Jesus, even to the point of his own persecution and possible death. What could turn a coward into a courageous preacher? The resurrection. That's living hope.
And not only is it a living hope; it's also a lasting hope. That's because we have "an inheritance incorruptible and undefiled and that does not fade away, reserved in heaven for [us]." In other words, this earth, which is fading away and corruptible, is nothing compared to what waits for us in heaven.
So let the living, lasting hope of the resurrection be your motivation this week, and don't be shy about sharing it with a world that's desperate for that hope.
Copyright © 2018 by Connection Communications. All rights reserved.
For more from Skip Heitzig, visit ConnectionRadio.org, and listen to today's broadcast of The Connection with Skip Heitzig at OnePlace.com.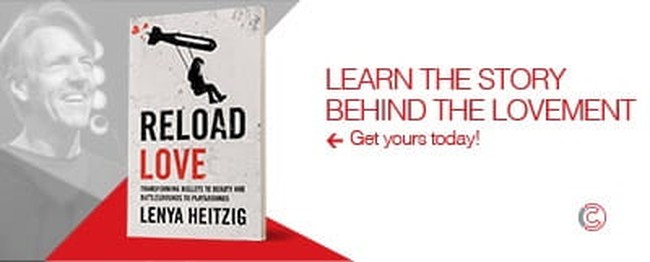 Reload Love: Transforming Bullets to Beauty and Battlegrounds to Playgrounds
Lenya Heitzig's heart broke at the seemingly hopeless plight of refugees fleeing terror-stricken nations. Her book Reload Love tells the story of how God used her to build a ministry that turns weapons of war into something beautiful and former battlegrounds into playgrounds.