The Good Kind of Heartburn

By Skip Heitzig
One of my favorite post-resurrection stories is found in Luke 24. Not long after the crucifixion of Jesus, a couple of disciples were walking along the road to Emmaus, and they were pretty bummed out. They didn't know Jesus had resurrected; they just knew their hopes and expectations about Him had been dashed.
As they walked, along came Jesus, whom, the text tells us, they were kept from recognizing (see v. 16). And do you know how Jesus revealed Himself to them? Through their hearing the Word of God (see Romans 10:17).

After the two disciples explained to Jesus why they were so sad, Jesus said, "'O foolish ones, and slow of heart to believe in all that the prophets have spoken! Ought not the Christ to have suffered these things and to enter into His glory?' And beginning at Moses and all the Prophets, He expounded to them in all the Scriptures the things concerning Himself" (Luke 24:25-27).
Jesus rebuked them, then gave them a Bible study. I'm always disappointed when I read this, because if there was one discourse I wish was included in the Bible, it's this one. Just imagine the greatest teacher explaining the greatest themes from the greatest book that brings the greatest blessings to us all.
By the time Jesus was done, the sun was setting, and the two disciples begged Him to eat with them. So "it came to pass, as He sat at the table with them, that He took bread, blessed and broke it, and gave it to them. Then their eyes were opened and they knew Him; and He vanished from their sight. And they said to one another, 'Did not our heart burn within us while He talked with us on the road, and while He opened the Scriptures to us?'" (Luke 24:30-32).
Notice they didn't say their hearts burned within them as they talked to Him in prayer or as He gazed into their eyes. No, their hearts burned when they stopped talking and started listening to what He had to say.
This kind of heartburn is simply a new understanding of old things. It's like reading something in Scripture you've read before, but the light comes on and you finally get it. Jesus didn't tell these guys anything they didn't already know; they had heard the Prophets and Moses all their lives—but not like this.

Every now and then I'll meet somebody who says, "Yeah, I've heard all this stuff in the Bible before. I want something new. I want a new revelation." But you don't need a new revelation—you need a new application of the old revelation. You need to read the same old Scriptures while praying that the Lord opens them up in a way that you understand them. That's what caused these disciples' hearts to burn within them—and what I hope will cause your heart to burn, too.
Copyright © 2018 by Connection Communications. All rights reserved.
For more from Skip Heitzig, visit ConnectionRadio.org, and listen to today's broadcast of The Connection with Skip Heitzig at OnePlace.com.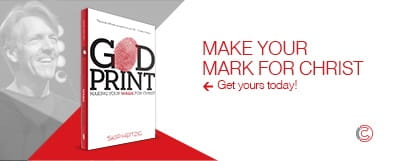 As Christians, we leave a mark behind when we allow God to use us for the cause of Christ. Explore Abraham's influential life and legacy in Skip Heitzig's book Godprint: Making Your Mark for Christ, and consider the lasting, God-centered mark you can leave behind.