A Deeply Rooted Life
Pam and Bill Farrel

Authors

2012

1 Oct

COMMENTS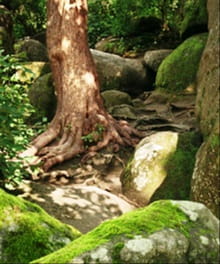 Our newest book, A Couple's Journey With God devotional, is one of our most personal yet. We pull back the curtain and let you see back stage of our life. What makes the Farrel marriage and family work  
To us, life  and love is much like a tree. A deeply rooted love will make life work. The stronger the roots, the stronger the love, the stronger the life. In Jeremiah 12:2 God promises a good outcome if you dare to dig your roots deep into him: "You have planted them, and they have taken root; they grow and bear fruit." 
If you live in the part of the world known as Tornado Alley, you know what happens when a big storm hits. Winds whip through and trees that have shallow roots are tossed about like toothpicks. But trees with deep roots that go far into the ground are anchored in place. These deeply rooted trees continue to grow year after year and survive storm after storm. In the same way, God challenges us to have those same kinds of deep roots: 
They will be like a tree planted by the water that sends out its roots by the stream. It does not fear when heat comes; its leaves are always green. It has no worries in a year of drought and never fails to bear fruit (Jeremiah 17:8). 
Jesus warns of the danger of having shallow roots in the famous parable of the seed: 
Some fell on rocky places, where it did not have much soil. It sprang up quickly, because the soil was shallow. But when the sun came up, the plants were scorched, and they withered because they had no root (Mark 4:5-6). 
We need more marriages with deep spiritual roots. These strong marriages provide stability for families, churches, and communities. But deep roots take a little effort to develop.
We often have couples say to us, "We want a marriage like yours." Then we begin to explain some of the traditions, habits, and choices we have made to have a marriage that is happy (and, at the writing of this book, has been successful for 32 years!). We encourage them to have a daily quiet time with God so God can speak to them on how to be the best partner, parent, and person possible. Then we explain the benefits of layering in good training by attending church, perhaps a Sunday School class, and a small group where couples meet together to study marriage and family issues. We elaborate on the need for marriage conferences, listening to Christian radio, TV, podcasts, and other forms of media so you have a steady intake of God's view of how relationships work. 
The response we get about 50 percent of the time is, "Oh, we don't have time for all that!" And our reply is, "You can give time early and prevent issues, or you can give more time later because you have issues. You will give time. Pay now or pay later, but you will pay." We just prefer to pay our time in preventing problems and issues. 
One couple said to us, "Love the video curriculum!" I (Pam) asked, "So which part of the Bible study did you find most helpful?" The newlywed couple said, "Oh, we didn't do the Bible study. That was too much work. We just watched the video part because you and Bill are funny."
 My heart broke for them. While we strive to be practical, Biblical, and yes, humorous in our video, we know the real, deep, rich work God does is in those daily Bible studies. Deep roots develop when it is just you and God dealing with your life, your relationship, and your heart. A media-only diet is like a tree with shallow roots. One big wind storm comes and it can topple the tree. Or one hot, scorching summer hits and shallow roots dry up and the plant dies. The best fruit, the sweet fruit, comes when the roots of the tree go deep down into the rich soil. 
We join the Apostle Paul and we pray for all the marriages of you, our reader of this column—or any of our books: 
And I pray that you, being rooted and established in love, may have power, together with all the Lord's holy people, to grasp how wide and long and high and deep is the love of Christ, and to know this love that surpasses knowledge—that you may be filled to the measure of all the fullness of God Ephesians 3:17-19).
Pam and Bill Farrel are international speakers, authors of over  35 books including best selling Men Are Like Waffles, Women Are Like Spaghetti. Their newest book, A Couples Journey With God devotional along with many other resources and free articles are available at www.Love-Wise.com.
Publication date: October 1, 2012