Hard-Hit Neighborhood Hosts Public Reading of Job
Emily Belz

WORLD News Service

2013

5 Nov

COMMENTS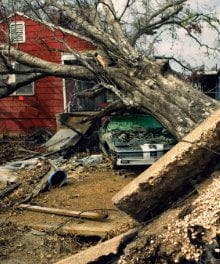 This part of the Rockaways, largely African-American and Hispanic, is one of the city's forgotten neighborhoods, and one of the hardest hit during Superstorm Sandy.
The storm flooded Arverne Pilgrim Church, leaving chairs floating in the sanctuary. After the waters subsided, the church became a hub for disaster workers. In April, an out-of-control SUV smashed through one of the church's brick walls, busting up the freshly renovated kitchen and women's bathroom. Averne Pilgrim Church rebuilt again.
On Tuesday night, the anniversary of Sandy's landfall, people from the neighborhood gathered in the church for a performance. Three professional film actors came to the Rockaways to read excerpts from the book of Job, and talk about suffering. They and artistic director Bryan Doerries, who adapted the book of Job for the 45-minute performance, sat in front of the church and read.
Reg Cathey, an actor who starred in the HBO series The Wire and Netflix's House of Cards, played Job. Cathey's deep voice rose and fell, in sorrow, in anger, and then in exhaustion. Tears ran down Cathey's cheeks through the performance. Much of the book of Job focuses on Job's lamentations and questions (this performance version is based on a translation by Stephen Mitchell).
"Why should I stay alive?" Cathey, as Job, asked. "Has [God] punished me for a trifle, for no reason? … If only there were an arbiter who could lay his hand on both of us … to hold back your terrible arm. … I call, but there is no answer. … My neighbors have thrown me away, my relatives look through me. … What crime have I committed? Why do you hide your face?" Audience members nodded and said, "Mhm," as Job listed his different complaints.
Gloria Reuben from ER, Tamara Tunie from Law & Order: Special Victims Unit, and Doerries played the rest of the roles: Job's unhelpful friends, Satan, and God.
God (Reuben) answered Job at the end of the performance: "Who is this whose ignorant words smear my design? … Have you ever commanded the morning? … Who cuts a path for the storm? … Am I wrong because you are right?"
Job concluded, "I know you can do all things. … I have spoken the unspeakable. … I am comforted that I am dust."
The audience applauded and then Doerries kicked off a conversation: "What did you hear in the story that struck you as truth?"
The audience included first responders to the storm, people who lost homes, and disaster relief volunteers. Some described themselves as "not religious," and others talked about their Christian faith. Everyone had a story. Kathleen, a resident whose home flooded, talked about the part where Job's three friends sat with him in silence for seven days. "There are people I would have liked to have sat with me seven days and seven nights in silence and they didn't," she said. She said after the storm she has had to learn forgiveness, for how family and friends responded to her suffering.
Scott Stein, who works for the New York Police Department, moved his family to the Rockaways three months before Sandy hit. Before the storm, he bought his daughter a shell-encrusted sign that said, "The greatest things in life are not things." When the storm hit, he saw the sign floating away. Eight feet of water filled the family's new home. But he doesn't want to rehash his family's losses.
"It became very insignificant," he said.
Working for the NYPD, Stein said, "My life has been about crisis. … I'm very good at it, terrorism or storms. A year ago, I was here. … I walked out as the lights were going out and the fires were raging and the waters were rising. I said, I'm ashamed to say, like Job … 'What sin have I committed?' I have given a life of service, and now it's me looking at my children without a home, wondering where the next hot meal was coming from. I was ashamed to feel that way."
Stein concluded, "God's wonders are beyond my grasp."
The theatrical organization behind the event, Outside the Wire, is taking performances of Job to all five boroughs. The idea for reading Job in hard-hit neighborhoods originated when someone from the Missouri governor's office phoned Doerries after the Joplin tornado and asked about a theatrical performance for the anniversary. Doerries—who studied Latin, Greek, and Hebrew as well as biblical exegesis at Kenyon College—thought of Job. The reading and town hall in Joplin proved so helpful that he decided to repeat the performance for communities hit by Sandy.
Doerries said he chose Job because "it asks fundamental questions about how we respond as human beings to the seemingly indiscriminate suffering that comes after natural disasters." He said Job also shows "our own limitations and fallibility to be in the presence of suffering."
(c) WORLD News Service. Used with permission.
Publication date: November 5, 2013