The KJV's Royal Treatment
Timothy Dalrymple

Patheos.com

2011

8 Apr

COMMENTS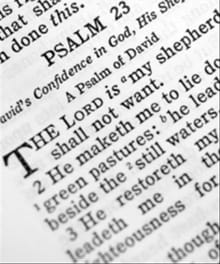 (WNS) -- It sounds like the beginning of another Dan Brown fantasy. A tiny church in southwestern England takes an ancient Bible, bound in ornately carved oak, to London's Museum of the Book. There it's identified as one of very few remaining original editions of what is—almost indisputably—the most influential book ever printed in the English language.
Members of St. Laurence Church in Hilmarton, England, often had wondered about the old King James Bible that was displayed behind the pews. A hand-lettered sign noted that it was discovered in the parish chest in 1857, and added, "This Bible is the second of two impressions printed in 1611." Yet no one knew whether it was true. Members of the parish council finally took the book to an expert, who spotted the proof right away. Rather than saying that Jesus entered the Garden of Gethsemane on the night He was betrayed, Bibles from the second 1611 printing say that Judas entered the garden. Don't tell Dan Brown, but there's no scandal here, just an innocent printing error.
The King James Bible was hardly the first English translation of the Bible, but it outpaced its competitors and became the standard English version for centuries. In the words of Neil MacGregor, director of the British Museum, the King James Bible was "the one shared text of English speakers throughout the whole world," and as such it formed the basis for a common literary and religious culture.
Numerous events are planned to celebrate the 400th anniversary of its publication. The Globe Theatre in London will read the entire King James Bible publicly in the days before Easter, Baylor University is hosting a major conference in early April on "The King James Bible and the World It Made," and the King James Bible Trust lists dozens of other events. Of an estimated 1,000 copies printed in 1611, experts guess that 200 remain.
As Moira Goff of the British Library explains, this was the Bible that was read weekly to parishioners throughout the English-speaking world. It was daily reading for countless literary figures. And as sacred Scripture, it exercised an authority that Shakespeare never could. The King James Bible "is so embedded in us that we can't overstate the significance of it."
Publication date: April 8, 2011