Witnessing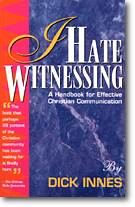 Your first response may be that you can't witness because you don't have the gift of evangelism. This is no excuse. There is still a way to spread the Good News - by how you live your life.
Act like Christ. You don't have to talk about Christ if you act like Him. Let others see Jesus when they look at you.

 

Be honest. Don't pretend to be what you are not.

 

See Jesus in every face. Be kind to people from the start.

 

Be available to those who need you, and to God who wants to use you.

 

Every contact counts. Realize that you might be one of the sowers while someone else, later on, will be a reaper. Evangelism is a process, not a one-time event.

 

Meet the needs of others. Meeting needs is the whole purpose of the Gospel.

 
From I Hate Witnessing: A Handbook for Effective Christian Commuication. Copyright (c) 1994 by Dick Innes. Used by permission of ACTS Communications, Upland, Calif., 1-800-626-2287. For more information on ACTS International visit their website at http://www.actsweb.org.
Dick Innes is founder and international director of ACTS International, an organization that helps churches bridge the gap to their unchurched communities. He is the author of How to Mend a Broken Heart, and has written more than 200 specialized outreach brochures, more than 38 million of which have been distributed around the world. He has pastored a church in Michigan, is a trained pastoral counselor, a seminary adjunct professor, and leads seminars and workshops to help both church and unchurched people at their point of need. He was born in Australia, and has lived and worked in Southern California since 1981.