How Beleaguered Baseball Players Find Inner Peace
Marvin Olasky

Editor in Chief, WORLD Magazine

2011

8 Apr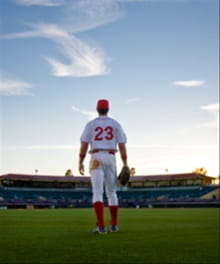 (WNS) -- Eighteen years ago Pittsburgh Pirates pitcher Tim Wakefield, before his first full major league season, spoke of becoming a Christian in 1990 and the effect it had on him: "Before, I worked hard but I wasn't at ease. Now, in a lot of tough situations people have asked me how I can be so composed, and it's only because I know the Lord. Knowing that God is gracious regardless of my performance helps me to control my frustrations... The gospel has given me inner peace. I still have a lot to learn, but there is that inner peace."
Wakefield has had a lot of time to learn, in an up-and-down career that he's built on one unusual pitch that few can throw successfully, the up-and-down-and-fluttering knuckleball. After two sensational major league months he lost control of it, sometimes walking up to 10 opponents in a few innings, and returned to the minors. The Pirates gave up on him early in 1995. The Red Sox signed him and he's played for Boston ever since, with varying degrees of on-the-field success, but a high regard from his managers: Terry Francona told me, "He's a solid professional every day, doing his best. He's the same, good day or bad day."
Last year Wakefield received the 2010 Roberto Clemente Award, given to the one major league player who best demonstrates community involvement, sportsmanship, and teamwork. Previous winners who profess Christ include John Smoltz and Curt Schilling. But Wakefield is different from those two vocal evangelicals because he is almost never publicly identified as a Christian.
He was first in line for loosening-up exercises early on a game day last month. Later, standing by the third base bag, he said, "Some people lead by example, others by words. I don't talk about it much, but when reporters ask, I'm happy for them to let people know about my beliefs. They generally don't ask."
Wakefield decided in 2005 to go on year-by-year contracts rather than hold out for a long-term one: "Money isn't that important, and I had already made a lot. I wanted to pitch as long as I could contribute, and didn't want to hang on if I couldn't."
Another professed Christian on the Red Sox, J.D. Drew, has throughout his career pushed for big multi-year contracts, and received some fan derision in response. He spoke of "the unique opportunities as a professional athlete to get in trouble, especially when you're on the road," and acknowledged that he is (like all of us) "a work in progress." But he's the first Christian player who has told me that his particular way of dealing with "fans screaming at you" is to sing hymns to himself as he's standing all alone in right field.
The example he gave, "Jesus, Lover of My Soul," concludes like this:
"Plenteous grace with Thee is found, grace to cover all my sin;
Let the healing streams abound; make and keep me pure within.
Thou of life the fountain art, freely let me take of Thee;
Spring Thou up within my heart; rise to all eternity."
Publication date: April 8, 2011