To Pray Without Ceasing
Ryan Duncan

Crosswalk.com Entertainment Editor

2013

6 Feb

COMMENTS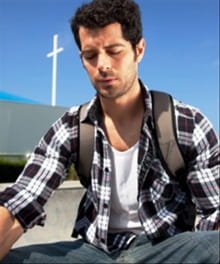 Between December 26, 2012 and January 3, 2013, I served on a mission trip to Russia where my team and I delivered Christmas presents to children living in orphanages. During my time there I kept a journal of events. The following is an adaption of several entries from the middle of the trip.
It was our last day in the city and I was exhausted. For a week my team and I had been working with children in the orphanages of Vladimir, Russia, and the combined effects of sickness, jet-lag, and Holiday chaos had left me completely spent. To complicate matters, that night our coordinator announced the most difficult home had been saved for last.
"This next orphanage has a reputation for being very, well, hard." He explained. "Our interpreters have been working with the kids there for a year now, but they can still be pretty cold. I just wanted you all to know what you should prepare for."
I wish I could say our visit to the orphanage promoted a miraculous change in the children. That our presence there caused them to open up, allowed us to get close and let them know that they were loved. I wish that we had really been able to communicate the gospel of Christ to them, but I can't. To be honest, the visit went almost exactly as I feared it would. Most of the children ignored us.
The ones who did choose to interact were withdrawn and bored, and then there were the troublemakers. I can remember one boy in particular who seemed to revel in the chaos he caused. He bullied the younger children, threw craft supplies around the room, and at one point even told our interpreters to "Just leave the presents and go." I thought I would be angry at this boy for the way he acted, but all I felt was sorrow. I knew that it couldn't be long before he aged out of the system.
What would happen then? Life had been cruel to this boy, and it would only get more difficult as he grew older. Then there was me, what could I do for him, for any of them really? In a few days I would be flying back home halfway across the world, and I would likely never see any of them again. As we rode back to the hotel I expressed my feelings to two of my team members, and after a long pause one of them spoke.
"There's really only one thing you can do for these children. Pray."
So that's what I did. That night before I lay down to sleep, I bowed my head and prayed for each child by name. I wrote them down in my journal to make sure I wouldn't forget them, and every night since that trip I have prayed for them. Maybe I can't do anything to help them, but I believe in a God that can do all things. I believe in a God who loves those kids so much that he chose to die for them.
The Bible tells us to, "Pray without ceasing." And that is what I will continue to do. In those moments when you feel powerless, Christ will still be there to hear you.
*This Article First Published 2/6/2013