"A Friendly Stranger Has Paid Your Toll"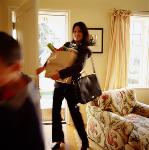 Good Morning America (ABC-TV) declared this week "Good Things Are Happening" week, a week dedicated to committing random acts of kindness to unsuspecting people across the nation. Each recipient of a good deed also receives a GMA calling card encouraging them to do something similar to another unsuspecting person.
In one clip, weatherman Tony Perkins pays the cab fare for New York commuters. In another, a toll booth operator near Washington D.C. proudly informs motorists that "a friendly stranger has paid your toll."
Other good deed ideas suggested on the show's website include:
Putting quarters in expired parking meters
Buying a few cups of coffee for strangers
Surprising a neighbor by mowing their lawn
Paying for a stranger's groceries
And more
Reaction by recipients of these good deeds has generated an interesting look in social behavior. Some graciously accept the gesture. Some "counter offer" that they're able to take care of it themselves. Some stand there astonished that a complete stranger has thought of them, expecting nothing in return. Nearly all of them recognize the kindness, respond with a hearty "thank you" and go on their way.
Suddenly, the impact of national media exposure has made the Golden Rule and Good Samaritan acts cool again.
The show's producers site a grassroots organization in Ohio called SSSSH! (the Secret Society of Serendipitous Service to Hal) as inspiration for "Good Things Are Happening" week. This small group of friends started SSSSH! to honor the memory of Hal Reichle, an American soldier killed in the first Gulf War who was widely known for his Good Samaritan acts.
Hal Reichle's legacy continues with this simple tribute. While blessing others, Hal was blessed with genuine friends, reminiscent of the small group of friends who broke through a roof to lower their paralytic friend before Jesus of Nazareth to be healed (Mark 2:1-12). May we all have friends like these.
This positive blip of pop culture is a real world example of what Jesus taught with His life. He taught us to love our neighbor as ourselves (Matthew 5:43-45; Matthew 19:19; Matthew 22:39; Mark 12:31; Luke 10:27). He taught us to live out our faith with good deeds (Matthew 25:31-46; see also James 1:21-27).
He taught us these Kingdom truths with His life. After all, He is the "friendly stranger [that] has paid your toll." May we now live our lives in honor of His memory. Hal Reichle apparently did.