Courage To Dream Again
Max Lucado

Author

2003

15 Jul

COMMENTS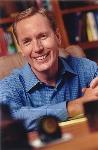 Hans Babblinger of Ulm, Germany, wanted to fly. He wanted to break the bond of gravity. He wanted to soar like a bird.

Problem: He lived in the sixteenth century. There were no planes, no helicopters, no flying machines. He was a dreamer born too soon. What he wanted was impossible.

Hans Babblinger, however, made a career out of helping people overcome the impossible. He made artificial limbs. In his day amputation was a common cure for disease and injury, so he kept busy. His task was to help the handicapped overcome circumstance. Babblinger longed to do the same for himself.

With time, he used his skills to construct a set of wings. The day soon came to try them out and he tested his wings in the foothills of the Bavarian Alps. Good choice. Lucky choice. Up currents are common in the region. On a memorable day with friends watching and sun shining, he jumped off an embankment and soared safely down.

His heart raced. His friends applauded. And God rejoiced.

How do I know God rejoiced? Because God always rejoices when we dare to dream. In fact, we are much like God when we dream. The Master exults in newness. He delights in stretching the old. He wrote the book on making the impossible possible.

Examples? Check the Book.

Eighty-year-old shepherds don't usually play chicken with Pharaohs ... but don't tell that to Moses.

Teenage shepherds don't normally have showdowns with giants ... but don't tell that to David.

Night-shift shepherds don't usually get to hear angels sing and see God in a stable ... but don't tell that to the Bethlehem bunch.

And for sure don't tell that to God. He's made an eternity out of making the earthbound airborne. And he gets angry when people's wings are clipped.

---
Excerpt from 
And the Angels Were Silent.
Click 
HERE
 to order
And the Angels Went Silent.

Copyright 1992  Max Lucado