EQUIP Helping Asian Churches Overcome Tsunami Devastation
Janet Chismar

Senior Editor, News & Culture

2005

12 Jan

COMMENTS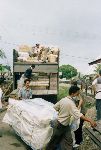 It is the local church that has the biggest impact – and the greatest burden – in Tsunami devastated areas of Asia and Africa. "We are overwhelmed with grief by this great tragedy," says David Mohan, pastor of a large evangelical Christian church in India. "All the local churches here are exploring ways to serve the hurting, but our resources are limited. Working together gives us the best opportunity to serve those now suffering."

Local churches are distributing food, water, blankets, tents, candles, medicine, body bags and facemasks, as well as tending to the spiritual needs of people in their communities.

"Our strategy here is to show the love of Christ in practical ways and allow the Holy Spirit to touch their hearts," says Tommy Smith, national director of Indonesia for EQUIP, an international leadership development organization founded by John C. Maxwell. EQUIP is partnering with the churches in Indonesia and India to provide resources to those in greatest need.
During a phone call from Indonesia, Smith explained that it is illegal to proselytize in the largest Muslim populated nation in the world. "This province is one to the most gospel-resistant areas of Indonesia, so our idea is to touch their hearts with Christian love and allow the Holy Spirit to speak to them."
When asked to describe what he was seeing and experiencing, Smith said he was most struck by the "smell of death" that permeated everything. "It's a smell that you can't get over; you can't forget. Just to give you an idea, this afternoon we were standing at the airport luggage rack – we were going back to Jakarta — and there was the same smell that I remembered when I was in Aceh yesterday. It seemed that whoever was standing near me obviously had been there and that lingers." 


More to come