His Summit
Max Lucado

Author

2003

18 Aug

COMMENTS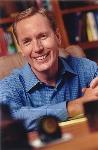 When I was 10 years old, my mother enrolled me in piano lessons. Now, many youngsters excel at the keyboard. Not me. Spending thirty minutes every afternoon tethered to a piano bench was a torture just one level away from swallowing broken glass. The metronome inspected each second with glacial slowness before it was allowed to pass.

Some of the music, though, I learned to enjoy. I hammered the staccatos. I belabored the crescendos.

The thundering finishes I kettle-drummed. But there was one instruction in the music I could never obey to my teacher's satisfaction. The rest. The zigzagged command to do nothing. Nothing! What sense does that make? Why sit at the piano and pause when you can pound?

"Because," my teacher patiently explained, "music is always sweeter after a rest."
It didn't make sense to me at age 10. But now, a few decades later, the words ring with wisdom-divine wisdom. In fact, the words of my teacher remind me of the convictions of another Teacher.

"When he saw the crowds, he went up on a mountain-side ...." (Matthew 5:1)

Don't read the sentence so fast you miss the surprise. Matthew didn't write what you would expect him to. The verse doesn't read, "When he saw the crowds, he went into their midst." Or "When he saw the crowds, he healed their hurts." Or "When he saw the crowds, he seated them and began to teach them." On other occasions he did that ... but not this time.

Before he went to the masses, he went to the mountain. Before the disciples encountered the crowds, they encountered the Christ. And before they faced the people, they were reminded of the sacred.

Make note of the music teacher and the rest. Take a trip with the King to the mountain peak. It's pristine, uncrowded, and on top of the world. Stubborn joy begins by breathing deep up there before you go crazy down here.

From The Applause of Heaven
Copyright © 1990, 1996, 1999  Max Lucado