How God Uses My Family's Hands
Sharon Fink

Contributor, God Allows U-Turns

2006

10 Feb

COMMENTS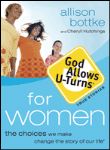 Lyndsay, my beautiful granddaughter, is small for her six years. She has big blue eyes, long eyelashes, and soft curly dark hair. She has been the recipient of more prayers than most humans will ever receive. Her delicate hands have never been able to reach out to receive the wonders of this world. They lie curled up in her little bed. She has cerebral palsy. She doesn't get to eat hot dogs or ice-cream cones. Her mom feeds her through a tube in her tummy. God knew she would need lots of special love, more than most children, so He chose her birthday carefully ... Valentine's Day.
Like Lyndsay, my father's hands are now closed, too. He's ninety. Only painful massages can unlock the hands that gave openly in ministry to his Lord for so many years. Alzheimer's disease has cruelly closed his hands and his mind, but tears in his eyes and lips puckered to kiss, tell me his heart is still open. He taught my hands how to write and type on the old manual typewriter. I can still see his fingers curled just right on the middle row of keys. He didn't show me the "hunt and peck" method, but the right way to move my fingers two rows up and one row down from the home row asdfghjkl.
As I type this story, I look down at my hands and see my pinky finger curling just like his used to. I have the same kind of bumps on my knuckles he has.
My mother, close by in another section of the same nursing home where Dad resides, has a hand closed due to a stroke. It hurts her now to unlock those fingers. Those are the same nimble fingers that played the piano, combed my hair, and wiped my tears when I cried. Now I wipe her tears and stroke her crippled hand. She doesn't know my name anymore, but she always has a smile for me.
I could choose to clench both fists and shake them at God in anger, asking Him why this happened to such dear, undeserving family members. Lyndsay is an innocent child with her whole life before her. Dad and Mom have blessed and been blessed by so many, they don't deserve this kind of sunset years.
But God has used my loved ones as His instruments to unclench my own selfish fists. Their crippled hands have sent me running to my Father, my only source of hope. As I massage their hands, my hands begin to open wider to receive whatever God wants to give me, to thank Him for their lives, and hug those who can't hug back. I choose, daily, to place my open hands into God's nail-scarred hands to receive whatever He wants to place there. It's not always easy, but I remember the wise words of Corrie ten Boom, a survivor of the Holocaust: "When we close our hands, we miss the many blessings God wants to place in them."
---
Excerpted from:
God Allows U-Turns for Women compiled by Allison Bottke (with Cheryl Hutchings)
Copyright © 2006; ISBN 0764201808
Published by Bethany House Publishers
Used by permission. Unauthorized duplication prohibited.