Kirbyjon Caldwell Discusses Entrepreneurial Faith
Janet Chismar

Crosswalk.com Contributor

2004

14 Oct

COMMENTS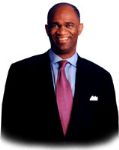 Kirbyjon Caldwell knows a thing or two about entrepreneurial faith. In 1982, when he was appointed senior pastor of Windsor Village United Methodist Church in Houston, the congregation numbered 25. Today, Windsor is the largest United Methodist Church in the nation with almost 14,000 members. Under Caldwell, Windsor Village has launched a number of initiatives that provide housing, job training, counseling, outreach and other services to low- and middle-income residents.
The former stockbroker grabbed the national spotlight when he introduced then-Gov. George W. Bush at the Republican National Convention in 2000. In 2001, he gave the benediction at the president's inauguration, and spoke at the nationally televised post-9/11 prayer service. Such appearances have earned Caldwell "cheers and jeers from the black community and clerical colleagues," according to The Houston Chronicle. But this political independent doesn't seem to mind.
In fact, the ability to challenge "status quo" thinking is a hallmark of entrepreneurial faith, Caldwell explains in his new book by the same name. Co-authored with Walt Kallested, Entrepreneurial Faith shows churches and individuals how to move out of the sanctuary and into the community.
Through biblical teaching and case studies from churches of various sizes and in a variety of locales, the authors show that the life of faith is an adventure of risk-taking in ministry. Entrepreneurial Faith challenges pastors, lay leaders, and individual Christians to invest their skill and passion in practical expressions of ministry. The same principles provide a new avenue for community-minded professionals to partner with churches to bring needed services to the community.
During a recent interview, Caldwell explained the key components of entrepreneurial faith and shared some insights from his own life.