Pat Williams Shares How to Be Like Jesus
Janet Chismar

Crosswalk.com Contributor

2004

1 Apr

COMMENTS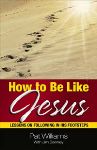 Imagine how the world would change if everyone were just a little more like Jesus. Author Pat Williams invites readers to do just that in How to Be Like Jesus (HCI Books). "While there will never be anyone like Jesus; throughout history the most successful, most enlightened and most joy-filled people have followed His example in their daily lives," Williams explains. "They know what others don't – that Jesus is not just a deity to pray to, but someone to know intimately; to understand deeply; to emulate consistently."
Drawing on the gospels of Matthew, Mark, Luke and John, Williams outlines 17 qualities that made Jesus the most unusual person to ever live.  His goal is to enable readers to learn from Jesus' life, understand his words and build his traits and character qualities into their lives.
One of the country's top motivational and inspirational speakers, Williams is senior vice president of the Orlando Magic and has more than 39 years of professional sports experience. Before joining the Central Florida pro basketball effort in 1986, Williams spent 12 seasons as general manager of the Philadelphia 76ers, taking them to a World Championship title in 1983.
He has written 21 books, including Making Magic and his autobiography, Ahead of the Game. He is also the author of How to Be Like Mike and Winning with One-Liners. Williams spoke with Crosswalk.com about How to Be Like Jesus during a booksellers' convention in Orlando.
MORE TO COME