Sharing the Gospel of the Passion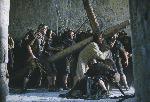 In this special interview, Pastor Greg Laurie shares with Dave Spiker, A New Beginning's announcer, about Mel Gibson's new movie, The Passion of The Christ.
Dave: Well, Pastor Greg, a unique event is happening in our local movie theaters. It's Mel Gibson's new film, The Passion of The Christ. 
Greg: Yes Dave, I've been invited to special viewings of this film and it grabbed me like no film ever has. I think it's because, number one, Mel Gibson is a master moviemaker, so you're dealing with one of Hollywood's top directors, bringing his considerable craft to this story. But most importantly, it's an accurate portrayal of the most life-changing event in history: the Crucifixion.
Dave:  Pastor Greg, you recently got a chance to meet Mel Gibson, didn't you?
Greg: I did, and he's a really nice guy, one of the most down-to-earth people you'll ever meet, very accessible and friendly. He described this film as his "meditation." He's a passionate believer in the message of what Jesus went through on the cross and he wanted to bring it to film. As I've heard Mel Gibson say, he felt that other films of Jesus often lacked in realism and historical accuracy. I think there's some truth to that statement. This movie is historically accurate and it's supported by Scripture. Gibson said this, "I hope the film has the power to evangelize." And, Dave, I hope that too. 
Dave:  I can't wait to see it myself, and I know that we have a new resource that we've just developed, that will help people get the most from that experience and understand it more fully.  Tell us about this new resource.
Greg: It's called The Passion of the Christ: a Biblical Guide. We have specifically developed it so believers might use Mel's film to share their faith. What we have done in this biblical guide is lay out helpful material that puts the Crucifixion into perspective for you. We have the timeline, the places, the people, the politics, and the prophecies of the Passion. But most importantly, we've included the gospel of the Passion. By that I mean, the gospel message presented in a way that is understandable to people, utilizing this film as a tool.
We want to help Christians articulate the gospel message to nonbelievers. And here's our plan:
1.  You get this resource, The Passion of the Christ: a Biblical Guide. You go over it and understand what Scripture says about the Crucifixion.
2.  Then take your unsaved friend or family member to see The Passion of The Christ.
3.  Buy their ticket and give them a copy of this guide as a "program" to the movie.
4.  Then talk with them about the movie, and answer any questions they might have.
I believe people are going to come to Christ because of this movie. But it won't happen without Christians inviting their unsaved friends and family to see this movie. Most of the unsaved people we know won't go to church with us, but they'll certainly go see a movie. We need to share the gospel of the Passion. And this biblical guide will help us do that more effectively. 
Visit Harvest Ministries at www.harvest.org/passion