Still Living, Still Learning
June Titus

Author of Still Living, Still Learning

2003

22 Sep

COMMENTS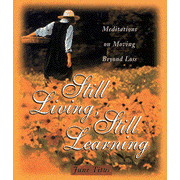 It has always been easier for me to write about my feelings than to express them verbally.
The feelings that followed the death of my husband were even harder to express aloud. True, I could share what I felt with other widows, and I appreciated their caring. I also appreciated the caring of those who could only hug me and say, "I'm sorry." I especially appreciated the caring of our children and family; they were sorrowing, too.
All the caring helped, but there were still lonely days, and especially nights, of sorrow such as I had never known before. I needed to face these myself, with my Savior and God.
Comfort and help came in quiet times alone, when I was praying and reading God's Word. It came in memories. One in particular stood out.
I remembered a day not too many months before my husband died. He had his arms around me, and I said, "I don't know what I would do without you." And although he held me tighter, he answered in his gentle, sensible way, "You'd go on living."
And I did! I have! Jim was right.
I began to wake up in the morning and say, "What do you have for me to do today, Lord?"
I found out that my days did not need to be filled with "important" tasks and activities. No, mostly it was little things that brought a smile to my face and made others smile, too. Or events that set me to thinking. Conversations shared or overheard. A beautiful scene – even an everyday one. They all led to special thoughts.
Inspirations came from everyday living!
Writing has given me such joy that I wondered if perhaps God could use it to encourage others. That is my
prayer
.
Blessed be God, even the Father of our Lord Jesus Christ, the Father of mercies, and the God of all comfort; who comforteth us in all our tribulation, that we may be able to comfort them which are in any trouble, by the comfort wherewith we ourselves are comforted. (2 Corinthians 1:3-4 KJV)
Copyright 2000 June Titus -- All Rights Reserved
This article is excerpted from
Still Living, Still Learning
by June Titus.
Click here
to purchase book at CBD.