The Trouble with "Sharing"
Andrée Seu Peterson

World News Service

2012

25 Jun

COMMENTS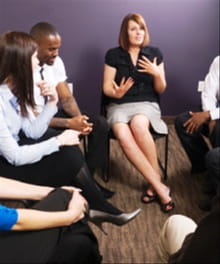 It is not uncommon for someone to share, in some detail, his or her depression and hopelessness, by way of asking for prayer at the prayer meeting. This may be an excellent thing under certain circumstances of extreme oppression by the Enemy that calls for group intervention, since Satan's arrows most always come against us with utmost seriousness.
But I have noticed one potential problem with the enterprise, and I cite my personal experience as a cautionary tale.
Consider this, that in the course of sharing your hopelessness with the group you are actually engaging in it! What I mean to say is that in the moment that you are disgorging to your prayer partners that you feel as though God is not with you and that He does not hear your prayers, you are in the very act of choosing not to trust God's claim that He is present with you, nor to trust His declaration that He is loving you, nor His statement that He is a God who answers prayers.
Just sayin.'
You know very well what your friends will say to you if they are Christians worth their salt. They will exhort you to simply believe God over your feelings, and they will tell you to trust Him in spite of your circumstances. It is totally predictable that that is what they will counsel you. And then you will feel better and you will do it, at least until suppertime.
But you have trotted over to the prayer meeting on Saturday morning, premeditating to dump this confession of depression on them. And in order to do this, you have had to hold on to it, to rehearse your little speech once or twice to yourself, and have had to keep the depressed state of mind alive on artificial life supports. The Holy Spirit was trying to speak to you on the drive to church, but you were not letting Him get a word in edgewise, so tenaciously were you holding on to your misery so you could ask prayer for it.
What you might consider doing instead next time is to speak out against the demonic stinkin' thinkin', as Jesus gave you the model in His handling of His own temptations:
"I will put my trust in Him" (1 Peter 2:13).
Why don't you save a step and get real, Andrée, and rebuke the sinful unbelief the best you can at home, speaking the Word of God aloud if need be, before you go off to the prayer meeting?
The human mind is very bizarre, is it not?
Andree Seu Peterson writes for WORLD Magazine.
(C) WORLD News Service. Used with permission.
Publication Date: June 21, 2012