Contentment Helps Us Connect
Sandy Coughlin

Author of "The Reluctant Entertainer"

2011

5 Nov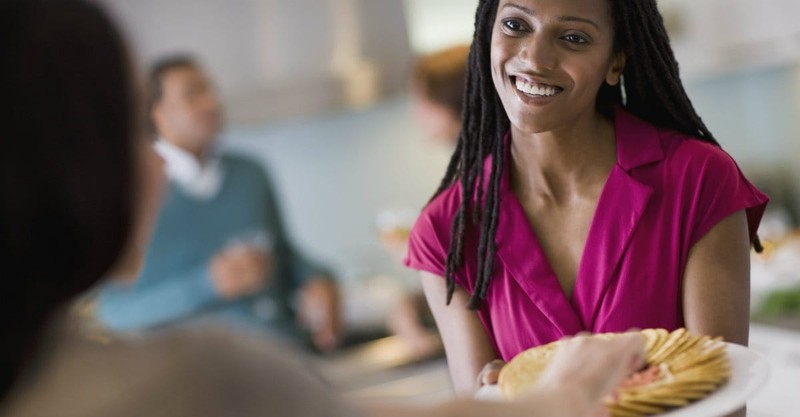 My husband and I walked up the pathway to knock on the door of a beautiful home in old East Medford, in southern Oregon.
We heard the laughter in the backyard, and saw through the window people mingling in the back of the house. So we walked in …
Warm connections come the minute you walk into a home. I know, because I felt it. And the hostess wasn't even there to greet us.
As I glanced around at the cozy furniture, warn and comfy, the pictures that lined the walls saying "family," the grand piano in the corner, the old hardwood floors, I thought to myself: Contentment.
I'm not sure how to explain the way I felt, except when the hostess walked around the corner to greet us, with very little make-up on, striking red hair in her 60s with red-lined lips and a killer smile, it came to me again: Contentment.
We were attendeding my friend's 65th birthday party. My husband and I (in our late 40s) were surrounded by people 20+ years older than us. But these women all had a "calm" to themselves.
I think they've been where most of us are today, and are now more mature. They know what counts, what matters, who they are, and they're not distracted by discontentment.
Discontentment. Not being happy with what you have.
Discontentment. A joy-buster to hospitality.
Discontentment. A robber of friendships.
Discontentment. A distraction and time-waster.
Discontentment. It sometimes drives a wedge between ourselves and our husbands.
Discontentment. A stealer of who we can be to our families and others.
This gorgeous red-haired woman has had the same furniture in her house for 30+ years, and the sense of family history just contributed to the contentedness of the atmosphere.
Even though I don't know her well, I told her how much I loved her house. That it was so homey and comfortable … and very classy. She then proceeded to tell me that years ago they bought their house for their kids. Many of their other friends were buying and building "up on the hill," but they wanted to be close to schools, town … they didn't want flashy. They wanted simple and easy.
I'm sure she had many opportunities to "re-do" or "re-design" her house or to jump on board with the latest and the greatest.
And yet, you felt pure class when you walked through their front door.
I think she figured it out early in life. She knew who she was.
She knew what was important to her.
She knew how to follow the trend–her trend. A trend that brings peace of mind, choosing your own style, using what you have, incorporating family, not keeping up with The Joneses.
The trend that brings contentment.
Warmer connections come not when we're constantly re-doing and looking for "more."
Warmer connections come when we are content with what we have, who we are, and using it all for good.
Do you struggle with contentment and how do fight against it?
---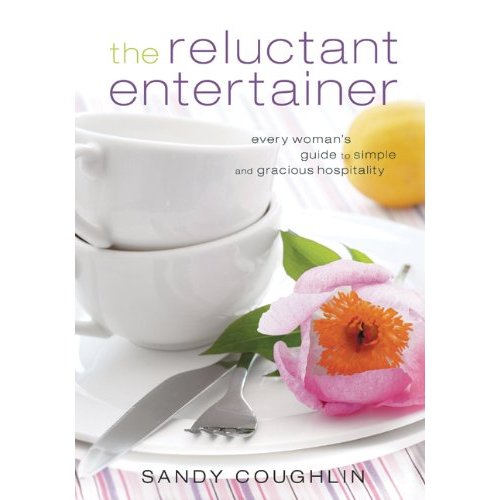 Excerpted from: The Reluctant Entertainer: Every Woman's Guide to Simple and Gracious Hospitality by Sandy Coughlin
Copyright © 2010; ISBN 9780764207501
Published by Bethany House Publishers
Used by permission. Unauthorized duplication prohibited.
Sandy Coughlin is creator of the popular blog Reluctant Entertainer, which she began in 2006 to help women get past their entertaining fears. Sandy has been featured on national media outlets including Dr. Laura, Moody's Midday Connection, Kraft Foods and Family Magazine, Yum Food and Fun Kids and Library Journal. She has also blogged for SCJohnson.com, AWomanInspiredConference.com, Kyria.com, and other online publications. A busy mom of three teenagers, Sandy is active in various volunteer organizations, and she enjoys hosting parties, cooking, and running. Sandy is married to Paul, and the family practices hospitality in their hometown of Medford, Oregon. Visit Sandy's blog at ReluctantEntertainer.com for more information.