Changing Your Life for the Better

Are you living aimlessly or with a clear sense of purpose and direction?

Often, we have someone call our 48 Days offices about making a change in his or her life. We send information and then hear nothing. Two years later, that person calls and says, "Now I'm ready to really create a plan." What I always wonder is, What did they do for those two years? And usually, when we meet, it confirms my suspicion that they simply continued doing what they had been doing.
We know that we all have a tendency toward continuing the status quo. But once you have made a decision, what would cause you to wait? If you said you wanted to be in better shape physically, when would you like to start? If you wanted to do better financially, when would you like to get started? Many times the years go by and I hear people regret that they did not start something earlier.
There is a recently published book titled "Five Frogs on a Log." The essence of the book is this: Five frogs were sitting on a log. Four decided to jump off. How many were left?
And it goes on to suggest that there were still five frogs on the log. There is a difference between "deciding" and "doing."
"How wonderful it is that nobody need wait a single moment
before starting to improve the world." Anne Frank
Now is a great time to be setting your goals for the rest of this year. No matter when you are reading this, now is a great time. There is something magical that happens when you clearly "decide" and begin to "do." Just clarifying where you want to be 5 years from now will start the process toward the fulfillment of that as reality. What an exciting way to start tomorrow, this month and this year!
There is considerable evidence to indicate that expectations of your future do, in fact, tend to create your future. People usually end up pretty much where they expect. It seems reasonable then, to spend some time determining specific, worthwhile expectations that will make your life more meaningful.
"It takes as much time and energy to wish as it does to plan." Eleanor Roosevelt
From the Bible:
"Brothers, I do not consider myself yet to have taken hold of it. But one thing I do: forgetting what is behind and straining toward what is ahead, I press on toward the goal to win the prize for which God has called me heavenward in Christ Jesus." Philippians 3: 13-14 (NIV)
Direction for Today:
What three things will you accomplish this week?


---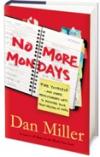 Dan Miller is today's leading authority and personality on careers and 'Work You LoveTM'. As bestselling author of 48 Days To The Work You Love, and now No More Mondays, Dan reaches over a million people every month ia his newsletter, podcast, and blog with the best trends and opportunities in the workplace and small business. For more information, visit http://www.48days.com.