Done any Whittling Lately? The Gift of Being

Webster's Dictionary defines whittle as to cut away aimlessly at a stick. Okay, but is cutting away aimlessly on a stick a waste of time, or a useful part of a balanced life?

Last Sunday on a leisurely afternoon drive, Joanne and I found ourselves in Lynchburg, TN. This is the town made famous for one product only - Jack Daniels. It's not all about making whiskey; obviously, lots of people there were involved in growing corn, barley and rye as well as other components of a vibrant community. But we found some very quaint memorabilia around this little town, calling people back to a simpler kind of life.

One small sign read:

To the casual observer, carving and whittling may appear to be similar pursuits. But the two are related only by the fact that each requires a sharp knife, a good piece of wood, and, as with most things round here, a fair amount of time. Here's how to tell the difference. If a person is carving, he is making some sort of useful object. Odds are he will end up passing this object on to somebody who will appreciate the gesture greatly. In whittling, on the other hand, the process itself is the thing. The result of this effort is simply a poke of wood shavings. It is important to note that this does not make whittling any less important than carving. Each is useful in its own way, and rarely does a person excel at both.

I remember as a small boy running up to the old guys sitting on the park bench in our little town, to see what they were making with their knives and sticks only to be disappointed as the stick disappeared totally with no meaningful object appearing at all. I always assumed they were disappointed as well as they somehow missed the critical cut where they could have shaped a dog or a whistle. Now I see that perhaps it was I who missed the point of the process.

Maybe in our rush to 'do' we miss some of the opportunities to just 'be'.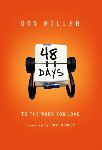 ---
Dan Miller is President of The Business Source, founder of "48 Days" and author of
48 Days To The Work You Love
and
48 Days To Creative Income
. He is the growing authority for creating effective life plans that are achieved by integrating natural gifts, unique personality traits and one's own values and passions. His unique clarification of how God gifts us will introduce you to a new sense of freedom and fulfillment of your life's calling. For more information, visit
http://www.48days.com/
.