Questions like these are arriving daily:
Dan, Help me, I'm miserable, my current job is literally ruining my life. I'm a fairly young man with a family. I feel I'm stuck in my current position to "pay the bills" but it is making me severely depressed and affecting every part of my life. I need to find my passion but I don't even know where to start. I feel like giving up and accepting my fate.
I'm a single mom, 50+ and in a teenager wage job! If that weren't bad enough, it's like Jr high there! I am SICK every Sunday night about going & in 7th heaven when I take a few days off. No other income & few opportunities here. I don't make enough to live on & today I just can't take anymore! PLEASE HELP!
Dan, at 35, I feel my job is sucking the life out of me. I have been with the same agency for over 8 years. I lost myself, and got sucked into all the "blackness". Frequent sickness, weight gain, grouchy with my family, and more recently withdrawal from all my relationships - I know where I am is toxic but I'm at a loss of how to turn around or even down a different path.
"People who are unemployed think the worse possible outcome is not finding another job," says Richard Bolles, author of What Color is Your Parachute? "Actually, the worst part is losing your self-esteem. You start thinking, 'What's wrong with me?'"
But losing self-esteem can happen without a job — or with a job that's sucking the life out of you.
You can't do great work at something you don't enjoy
If your work is sucking the life out of you, find something you care about
I know you're talented, but maybe not for what you are doing now
If you're miserable, you clearly are not using your strongest talents
Don't try to "be responsible" by staying in a job you hate
Don't think you'll just stay with it until you're out of debt - change now - it's a whole lot easier making money doing something you love
April 20, 2010
---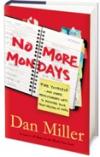 Dan Miller is today's leading authority and personality on careers and 'Work You LoveTM'. As bestselling author of 48 Days To The Work You Love, and now No More Mondays, Dan reaches over a million people every month in his newsletter, podcast, and blog with the best trends and opportunities in the workplace and small business. For more information, visit http://www.48days.com.