Familiarity May be Holding You Back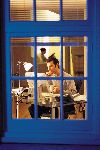 Doing things like they were done 20 years ago is very dangerous. As a matter of fact, Peter Drucker, the brilliant business thinker, says that if you are doing things the same way as you were even 1 year ago, you are probably being left behind. Such is the speed of change in the workplace today.
Here are some recent quotes I have heard from clients:
• "I've wasted many years of my life."

• "I got too comfortable."

• "I'm suffering from burnout."

• "I feel like I'm a box of parts and nothing fits together."

• "My job has ruled my life."

• "I've been too complacent in my life."

• "I'm on a greased slide to Purgatory."

• "I feel like I'm stuck in Groundhog Day."
One example of the dangers of sticking to conventional wisdom comes from the change that occurred in football in 1906. Prior to this time, football was a low scoring game of running and kicking. Guys in leather helmets plodded down the field with the "three yards and a cloud of dust" strategy that was common to every team. Then in 1906, the forward pass was legalized, making it possible to gain 40 yards with one throw. During that first season, however, most teams stayed with the tried and true, sticking with the conventional wisdom provided by many years of playing the game.
One team took another approach. St. Louis University's coaches adapted to and utilized this new option in the game and quickly switched to an offense that used the forward pass extensively. That first season they outscored their opponents 402-11!
Seek out ways you can bring new methods and innovation to what you do. You may want to take some courses to keep you at the top of your field. You may want to explore new fields as possibilities for your career. You may see a new opportunity in elder care, telecommunications, mediation, arts and drama, or alternative medicine. Spend an hour in the park. Find something in your life today that ain't broke and break it! Look for ways to experiment with "break it" thinking.
From the Bible:
"The wise man looks ahead. The fool attempts to fool himself and won't face the facts." Proverbs 14: 8 (TLB)
"Therefore if anyone is in Christ, there is a new creation; old things have passed away, and look, new things have come." II Corinthians 5: 17 (HCSB)
Direction for Today:
What one thing can you do today to break out of a predictable habit?


---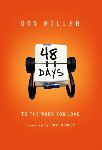 Dan Miller is President of The Business Source, founder of "48 Days" and author of 48 Days To The Work You Love and 48 Days To Creative Income. He is the growing authority for creating effective life plans that are achieved by integrating natural gifts, unique personality traits and one's own values and passions. His unique clarification of how God gifts us will introduce you to a new sense of freedom and fulfillment of your life's calling. For more information, visit http://www.48days.com/.