Help Children Discover Their Unique Gifts
Dan Miller

48Days.com

2011

18 Jul

COMMENTS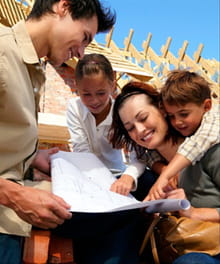 A few years ago, a beautiful Saturday allowed us to complete some outdoor projects. Joanne and I purposely had our three grandchildren at our house to experience the excitement of the day. A crew was working on forms for a new sidewalk before we woke up. The roofers were here by 7:30 AM.
Caleb, my then 6-yr. old grandson, was especially fascinated by all the work being completed.  The concrete truck arrived and began to dump the concrete in the prepared forms. Intrigued by the big boots and the opportunity to walk around in wet concrete, Caleb quickly informed us that he wanted to be a "sidewalk man" when he grew up.
Although he briefly reconsidered when we were sitting on the peak of our roof talking to the roofers, he informed them as well of his intentions. Of course, one of the roofers quickly dismissed his newly formed goal and told him to make sure he gets a desk job.
Finding our purpose or helping a child find theirs is an exciting process. By recognizing our (1) skills and abilities, (2) personality Ttaits, and (3) values, dreams and passions, we can see the patterns in what God has gifted us for.
If a man is called to be a street sweeper, he should sweep streets even as Michelangelo painted or Beethoven composed music or Shakespeare wrote poetry. He should sweep streets so well that all the hosts of heaven and earth will pause to say: Here lived a great street sweeper who did his job well. — Dr. Martin Luther King, Jr.
Now I know the grass is always greener on the other side of the fence, and this is just one more example.  But I also know that if a person provides a quality skill like creative sidewalk construction, they are not likely to ever be out of work.  And we see those cushy "desk jobs" come and go like the wind today. 
Caleb is growing up in a world where his Daddy, Uncle and Papa are all doing desk jobs. How exciting it is to watch his unique God-given talents develop! I would certainly not want to misdirect him from finding his passion and the application of that. And personally, I really do believe the world could use another great "sidewalk man."
We must allow each individual to find his/her authentic fit.  As parents, we must embrace training up a child in the way that he/she is "bent".  (Proverbs 22:6)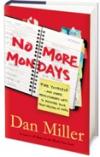 Dan Miller is today's leading authority and personality on careers and 'Work You LoveTM'. As bestselling author of 48 Days To The Work You Love, and now No More Mondays, Dan reaches over a million people every month in his newsletter, podcast, and blog with the best trends and opportunities in the workplace and small business. For more information, visithttp://www.48days.com.